See more articles
Outbound 44
Outbound 44: Blue Water Sailing tests the Schumacher-designed Performance Cruiser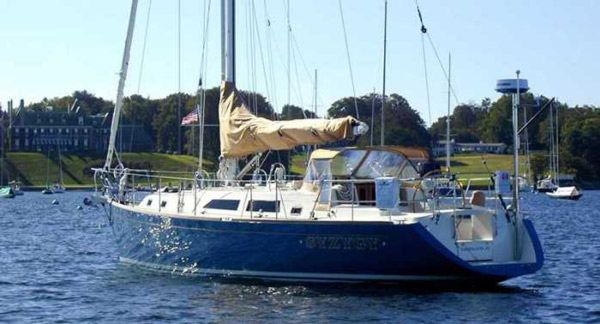 In the July/August 2000 issue of Blue Water Sailing, we ran a design profile on what we called at the time a "bright new player in the performance cruiser field." A solid-fiberglass, solent-rigged sloop designed by the late Carl Schumacher, the boat embraced the 40- to 50-foot offshore voyager theme, but with a particularly focused sense of purpose and definition. Rigorous structural integrity and comfortable if practical accommodations, enhanced stowage and tankage, a sailplan and hull configuration capable of stellar blue-water performance, a sensible price tag - they all entered into the mix. Arguably these are issues on any good builder's punch list, but as it turns out they come together in the Outbound 44 in a unique and wholesome way.

We promised that we'd spend time aboard the boat and report back after proper sea trials. In October 2002 we cruised some 300 miles from the Chesapeake Bay to Long Island Sound on hull number nine and came away with very positive impressions of what it is like to cook, sleep, wait out bad weather, conduct basic engine maintenance, con ship channels and blast reach up the New Jersey shore aboard a boat clearly made to be sailed and enjoyed. We'll touch on those impressions in this account.

But first, a bit of background. Phil Lambert, the motivating force behind the Outbound project, went to Schumacher four years ago with a set of bulleted items driven by one central directive, "to design the best performing solid glass cruising boat he could." Saving weight, as commendable a goal and as sought-after as it is in modern sailboat construction, would not come at the expense of a bulletproof hull or by way of pricey exotic materials. Moreover, performance would grow out of shape and form and lines, the distribution of weight and the sophistication of the sailplan.

Lambert's guidelines reflect his studied appreciation for what makes an offshore sailing vessel functional and comfortable when used for its intended purpose and sailed hard. The list amounts to a virtual road map of good sense: a traditional aft cockpit, deep and narrow, with six-foot seats; a raised deckhouse to increase light and ventilation and to accommodate large fuel and water tanks over the keel beneath the cabin sole; a short, negotiable, three-step companionway; sea berths for four aft of the mast; huge lockers for sails, gear and equipment; a watertight crash bulkhead well aft of the stem; a pronounced cabintop coaming to receive a proper dodger; and a dedicated nav station with a forward-facing chart table at the base of the companionway.

Central to it would be Outbound's firm commitment to the client. The semi-custom approach is compelling, and while the guidelines just described certainly provide the framework for what this boat is all about, the yachts delivered to date, now approaching 10, are as distinctive and different from one another as are their owners. Lambert's mantra says it all: "We want to build a boat for you?" The interior arrangement, deck details, finish materials, gear, equipment, type of rig, even hull modifications - it's all pick as you go, with plenty of solid advice to default to along the way. As an example, Syzygy, the Outbound 44 we evaluated, is really an Outbound 46 only because the owner requested an extra two feet abaft the transom for a more expansive swim platform. It's simply a matter of having it your way.

Design vision

One of the parameters applied to the 44 was that it appeal to sailors who have enjoyed PHRF or club racing and wish to expand the experience by going cruising offshore without forfeiting the performance they've come to expect on the race course. The owner of Syzygy campaigned a J/37 avidly for a number of years and made the decision to move into a bigger boat following a wet, uncomfortable ride returning to New England from the 2001 Marblehead-Halifax race. He likes to race, but at the core he likes to sail, and his decision to choose an Outbound 44 grew as much out of a performance sailor's appreciation of a quick boat as out of a husband and father's desire to take family and friends cruising and ultimately to parlay that into longer-distance oceanic voyaging. Whether racing to Bermuda or Hawaii, exploring coastal Maine, running down to Baja or making the leap to the Azores and beyond, the boat is good to go.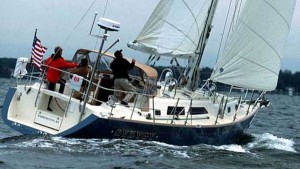 From the bottom up, Schumacher's design suits this vision handily. A rugged-looking boat as she sits in the water, nonetheless there are slippery lines below the bootstripe in keeping with her performance angle. Anybody familiar with the Alerion Express 28 from 1990 will appreciate Schumacher's talent for combining performance and restraint in a single cohesive package. The 44 features a long waterline and moderate beam, plus a medium-chord 6'6" fin keel outfitted with a ballast bulb. Aft is a deep balanced spade rudder. Sections are deep enough to give the boat a good grip on the water without producing an inordinate amount of drag.

The rig is one of the significant hallmarks of the 44, a refined version of the classic solent with a primary headstay tacked at the stemhead and a convertible inner stay located three feet aft with a Wichard release lever. A conventional staysail at mid-foredeck is available as well. Lambert's notion with regard to the sailplan is to fly a genoa on a furler all the way forward, and use the inner stay with hanked on heavy-weather or working canvas as needed. Bringing the inner stay back to the mast allows you to tack the genoa cleanly in light-to-medium going. "In heavier wind," Lambert remarks, "we'll hank on a 70-percent jib on the inner headstay for sailing upwind and have the number one ready to roll out when we fall off, dropping the jib to the deck contained by its hanks." It is notable for its versatility and redundancy, two critical allies offshore.

The combination of sail power and a well-configured hull results in an appealing slate of design specs - numbers, as we discovered, that the 44 lives up to at sea. The vessel by virtue of her long waterline shows a D/L mark of 192, comparable to the Hylas 46 (194), X-442 (192), and J/42 (186). It should be noted in the same breath that with 360 gallons of water and fuel in tanks beneath the cabin sole and 10,000 pounds of ballast conferring a B/D ratio of 36 percent there is a healthy concentration of weight down low, in the middle of the boat and away from the ends. Sail Area measured at 100-percent puts SA/D into the 18.8 range, right up there with the Sabre 452 (18.9), Sweden 45 (19.1), and again, the J/42 (18.5).

BWS was fortunate enough to experience Schumacher's design in its best light, because the owner of Syzygy opted for a custom carbon rig from Hi-Tech Composites in Charleston, S.C., a sweet suit of sails from Robin Sodaro at Hood's Sausalito, Calif., loft, and a slick lightweight carbon rudder blade. Those enhancements certainly elevate this well-conceived package to something truly sporting. The standard rig includes a two-spreader aluminum section from Ballenger, with continuous 1x19 stainless wire stays. To date, 44s have been taken with Seldén in-mast and Leisurefurl in-boom furling options, and some have been ordered with shortened 62-foot rigs for clients keen on more manageable sailplans.

Construction and systems

Construction is in Shanghai, China, at the Hampton Yacht Building Company. It represents today a fusion of Taiwanese boatbuilding and Chinese woodworking at their best in a venue where labor and residual costs can be kept under control. Each boat is built to order and faithfully incorporates the semi-custom objectives of its owner. Every contract, in fact, includes a built-in trip to China so that the owner can view and direct progress, and this attention to custom detail sets the 44 apart from so many production craft for which the color of the upholstery on the settees may represent the depth of one's involvement in the investment of a lifetime.

The building process is monitored carefully by the U.S. office, and in fact most of the materials used originate in the States and are shipped in containers from California to Shanghai, this to preserve a recognized standard of quality from one hull to the next. The only ingredient to come out of China is lead for the keel - 10,000 pounds per boat, molded at a foundry near the factory. A distributor in Taiwan provides wood for interior and finish work. Everything else - Lilly gelcoat, vinylester resins, 316 stainless steel, Knytex fiberglass cloth, Ancor tinned copper wire, Sealand hose products, rigging and sails - comes from the U.S.

The 100-percent hand-laid solid fiberglass hull is reinforced with two full-length longitudinal members and an assortment of transverse floors and massive athwartship carriers at the maststep and trailing edge of the keel. Upon inspection of the boat's sizable bilge it is evident that these cross members are high and thick, clearly serious players in terms of the integrity of the whole. Structural reinforcements and bulkheads are glassed to the hull while it is still in the mold. These include a watertight crash bulkhead abaft the chain locker in the bow, and the main bulkhead positioned at the mast station to accept the chain plates and provide ring-frame service where it is needed most. The vinylester-resin-based laminate schedule is beefed up in stressed areas including at the bow and over the keel. Knytex biaxial cloth is used for added strength and impact resistance. The deck is cored with Baltek balsa for stiffness; it is joined to an inward flange mechanically with stainless thru-bolts and chemically by bond, and further secured inside by the tabbing of all full-height bulkheads.

The keel treatment is particularly noteworthy. It is laid internally without the use of conventional bolts and without the point-loading and interface issues associated with externally hung foils. Basically, the fin is molded with the hull and accepts a 6,500-pound one-piece lead casting fitted and filled so as to eliminate the possibility of any voids. It is heavily glassed over at the top. Following this, two 1,600-pound lead cheeks sandwiching the fin at the bottom and forming the bulb are drilled through and bolted in shear, eventually glassed over with structural laminate and faired.

Solid is a word easily overused in a review such as this but it is difficult to resist when you look at how the yard has assembled the boat and then reflect on what it feels like under way in 25 knots of brisk breeze and a building four-foot chop. For some 12 hours during our trip BWS enjoyed these conditions aboard Syzygy and found the vessel completely at home in them, plying seas with a commanding, unified thunk, never creaking or groaning or wavering in any way. Hull, deck, bulkheads and rig collaborate as one. The sturdiness of the boat's backbone and tightness of her construction serve her well in conditions that would cause your fillings to fall out aboard any number of lesser craft.

The installation of systems is in keeping with these high construction standards. A 75-horsepower Yanmar sits beneath the companionway, accessed forward by lifting the stairs on their pneumatic struts, on the starboard side by opening a panel in the starboard-hip sleeping cabin, and on the port side by visiting the utility room abaft the nav station. Syzygy includes a Fischer Panda 5.5kW AC generator in this generous space, with room to spare for items such as refrigeration and a watermaker. Three 8D house batteries (two are standard) are located in fully secured battery boxes beneath the starboard settee, while a group 27 engine-start battery resides aft in the utility area. Tankage includes two 100-gallon fiberglass freshwater tanks built into the hull to port and starboard of centerline at the base of the companionway, and two stainless fuel tanks totaling 160 gallons installed forward of that.

The 44 can be fairly systems-heavy if you are partial to extras such as Marine Air reverse-cycle air conditioning and cabin heat, electric winches and a full complement of bring-along 110-volt AC items, but the builder appears to be well up to the task of organizing wire runs and the custom installation of optional gear. One thing about this boat that works in favor of the systems scenario is the amount of space available for installing and servicing this equipment. The Outbound's slightly raised deckhouse creates a wealth of volume below, and this is evident everywhere from the bilge area where tankage is located, to usable space both beneath and behind the cabin settees. Our time aboard 44 hull number nine included routine maintenance on the Yanmar, the generator, and the freshwater storage and distribution system. From wire chases to plumbing feeds to mechanical configurations, the boat is set up for straightforward, uncomplicated maintenance - this, despite the notion that it is what most would consider a serious oceangoing yacht.

Accommodations and detailing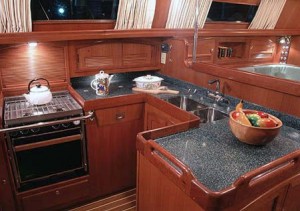 A lot of the customization aboard the 44 occurs below, where choices in finish and layout are numerous. The level of craftsmanship is high and this is evident in the precision of the joiner work and the elegance of living spaces in general. Standard finish is teak in one of shades; other woods including European cherry and African cherry.

The standard accommodations plan revolves around a main cabin at the base of the companionway, an owner's cabin forward with its own head, and a sleeping double aft in the starboard hip with a second head that includes a wet locker in the shower for offshore service. The main cabin features a secure U-shaped galley to port, aft of which is the nav station and then the aforementioned utility area, which is accessed as well from the cockpit for the stowage of gear. To starboard are the stateroom and head just described. Forward is the main saloon with a dinette to port and a longitudinal settee to starboard, both of which become sea berths with the deployment of lee cloths. All the way forward in the standard layout is a master double with its own head and shower. Ventilation comes by way of four substantial Dorades, eight opening ports and six opening deck hatches.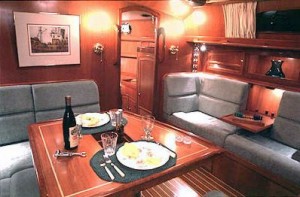 The designated owner's space in the bow can show a centerline double as appears on Syzygy, or a double offset to one side, or Pullman-style berths port or starboard. Throughout the main cabin, entertainment installations, lockers and incidental spaces are left up to owner input and preference. The nav station can be oriented or configured any way you want it - forward facing, outboard facing, large or small. Even the utility room aft can be finished off as a sleeping berth if desired, though at the cost of valuable mechanical space. BWS found the 44 comfortable and congenial in our five days aboard. The boat does not play the luxury card as do others in this size range and above; instead it attends to the practical needs of living, lounging, moving about and sailing with purposeful focus. No plush club chairs, rather well-designed settees, loads of locker and storage space, good handholds, easy access to systems, great communication with the galley, and easy circulation. The sleeping quarters are not large or embellished but they are comfortable and secure. The master stateroom, as discussed, is located forward. The settees make excellent sea berths and the berth starboard aft is great for gear stowage and sleeping but not a full-up stateroom in the conventional sense. This boat is designed around an active couple with children and/or incidental guests and crew.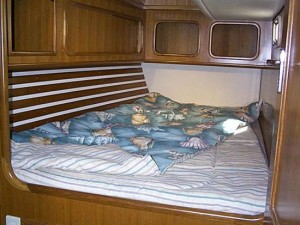 Abovedeck, the configuration of the cockpit and a generous assortment of storage lockers and lazarettes maintain the livable theme. The cockpit is long and deep, especially secure at sea with no less than six hefty pad eyes installed for the attachment of harness tethers. A huge locker into the utility space on the port side provides for the easy stowage of large items. Propane stowage for two 20-pound cannisters occurs in a port-hip lazarette. To starboard, a custom locker capable of swallowing the dinghy outboard sits just below a lifting davit on the radar post at the hip. The life raft lives out of the way but at the ready beneath an easily accessed panel beneath the helmsman's seat on the way out to the transom boarding platform. Finally, a large sail/gear locker located on the foredeck beneath an opening Lewmar hatch admits everything from storm canvas and spinnakers to fenders, docklines and spare sheets. There is no need to venture offshore on this vessel with anything unstowed.

BWS aboard

Sailing aboard the Outbound 44 is, as advertised, a rewarding preoccupation. In light air the boat moves with agility before a full main and 140-percent genoa, and response at the helm is on the money - especially aboard Syzygy with her uptown carbon rudder and Edson Cdi direct-linkage steering. We hoisted the asymmetrical in fluky conditions and kept it full and drawing mainly because the boat responds as well as it does to subtle adjustments by the helmsman.

In 15-to-20 knots of true wind, cracked off 120 degrees on a powerful reach, the boat sizzles along at nine knots with a single reef in the main and a piece of genoa rolled out. Motion is comfortable and steering sweet, the ability to negotiate seas and respond to shifts always there. In blustery 25- to 30-knot winds with a confused chop at night, sailing 150 degrees off the wind with two reefs in the main and the genoa furled, the boat romps, trumping nine knots easily off the backs of building seas. Significantly, the 44 remains easy to steer in these conditions and comfortable to be aboard, which makes life pleasurable as much for the driver glued to the wheel enjoying the ride as for the autopilot always at the ready below.

Indeed Phil Lambert's requirement that this boat be comfortable to sail offshore is realized in Schumacher's well-rounded design. The 44 offers a level of performance and response not seen in most mainstream cruising boats, and it does so without invoking the trade-offs that lightweight performance boats are apt to bring along. This bodes well for anyone keen on experiencing refinement at the helm and enjoying long, untiring boards offshore at good speeds. That the boat is uniquely suited not only to owner-operation but also to the broader realms of owner self-service and hands-on maintenance completes what is a very compelling vision. And at a base price of $345,000, good value is a noteworthy perk. You'd be hard-pressed to find a vessel as thought-out, well-delivered and true to its design precepts as the Outbound 44 in any price range.

Outbound Yachts
3424 Via Oporto #208
Newport Beach, CA 92663
Tel: 949.275.2665
Fax: 949.673.8200
PLambert@OutboundYachts.com
http://www.outbound44.com