See more articles
Passport Vista 545: Gold and Butter
Muscle and luxury coexist in the Passport Vista 545, an elegant award winner.
Built in Xiamen, China, the new Passport Vista 545 from Passport Yachts is a bit of a movie star. She's picture-worthy whether photographed in her entirety under sail or as a sum of her beautifully crafted parts, from deck fittings above to hand-rubbed cabinetry below. It's the kind of cruising boat that's all sleek lines and tight angles, while oozing luxury out of every gelcoat-covered pore.





After stepping aboard the sugar scoop transom and up the two steps to the aft deck of the Vista 545 in Annapolis, I literally cornered designer Thom Wagner as he was hoping to escape after a long first day at the boat show. He looked tired and wasn't in the mood to deal with one more journalist looking for a walk-through, but I promised I'd only need 15 minutes. His energy and mine quickly picked up as we covered the details of this now award-winning design and an hour later, we emerged back on deck in better moods and with a deeper appreciation of the attention to detail that goes into every Passport.

The Vista 545 has hand-laminated glass construction with a closed-cell foam-cored deck. Below the waterline she has internal lead ballast glassed into a modified fin keel, available in either a deep (6' 6") or shoal (5' 7") version and a partial skeg-hung rudder. The rig comes in two flavors: a tall or ICW (shorter by 6'6") Selden internal furling mast with triple aft-swept spreaders. The versatile Solent rig (an overlapping genoa or reacher and a smaller working jib on separate furlers) will keep the boat on her feet in a variety of wind conditions, and she will most likely reel off 220-250 nautical mile days under sail.

The 545 is not to be trifled with. It is designed to be sailed by a couple but it's a big, muscular boat that will respond best to knowledgeable sailors—and with a $975,000 base price, sailors with a sizeable pocketbook. Built as a solid offshore boat, her bow construction is all muscle with beefy anchor rollers well away from the bow, a solid-feeling pulpit, and a watertight bulkhead just aft of the anchor locker with a separate bilge pump and alarm system. She also has high double lifelines which is refreshing in today's world of ever lower lifelines, which are designed to make boats with high freeboard look lower and sleeker, but definitely not safer.

The cockpit is easy to access with an opening in the molded coaming on both sides and a protective built-in windshield forward. The single wheel sits aft of a pedestal that is the anchor point for electronics and instruments as well as a large cockpit table. Electric primary winches make easy work of managing the large sail area which (depending on rig chosen) will be well in excess of 1,400 square feet.



The two boats I visited in both Annapolis and Miami featured a two-cabin, two-head layout, which as you can imagine, leaves plenty of room and privacy for the guests aboard. Passport interiors are not modular, they are what's referred to as "stick-built," meaning handcrafted piece-by-piece and customized to suit the owner. Each of these boats takes an estimated 32,000 man-hours to build, which is about five times that of an average production boat. The results speak for themselves.

Gently-sloped companionway steps lead to the saloon with a curved dinette to port and a straight settee to starboard. Here, the large cat-eye ports on either side of the deck bring in plenty of light, as do the two opening ports in the hull. A walk-through galley to starboard has top and side-opening twin refrigerators, one of which can be run as a freezer. This straight-line and well-laid out galley also includes a three-burner stove and oven, a microwave, twin sinks and significant countertop space.

The galley leads aft to the master stateroom with a centerline bed, which has a footboard as well as a cedar-lined cabinet at the head. The ensuite bath has a Raritan electric head and separate shower stall which provides one of the access points to the engine room, which houses a Yanmar 110 HP main and an optional genset. This head is also accessible via the nav station forward on port. The guest quarters are ahead of the mast with another centerline double bed and head with a shower stall. Here, a third cabin can be added, which would move the shared head into the bow area.

Ash and cherry satin finishes are available and it doesn't matter which nook or cranny you choose to examine, each will be finished down to the tiniest and most invisible detail. It's easy to see where 32,000 hours of craftsmanship go.



Most definitely, the Passport 545 corners the market on elegance. The well-fitted joinery seems to leave no detail unattended and no hidden locker unfinished. From the deck fittings to the shower stalls, each component is ready for its close-up. It's no surprise that one of the details that embedded itself into my memory was the finish of a corner cabinet between the galley and the companionway steps. This cleverly designed and ridiculously well-crafted bit of furniture swung open on hinges to reveal of all things, access to the engine oil filter. It's those kinds of details that make a Passport, a Passport.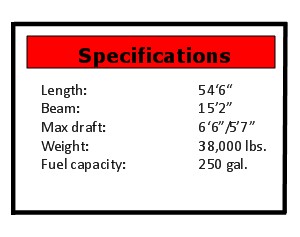 Comparable boats include the Oyster 54, with its focus on quality craftsmanship and luxury finishes. The Hylas 56 is also a contender with an eye toward the value price point.

For more information, visit Passport Yachts.

—Zuzana Prochazka