See more articles
Alerion Express 38: Bob Perry Design Review
Alerion Express 38: A Handsome cruiser with spirited performance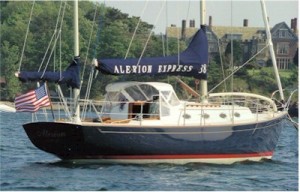 Carl Schumacher is on a roll with these Alerions. I first saw this boat at Sail Expo in Atlantic City in 1997. It is indeed a handsome boat, and it's fun to see the yawl rig being used.

Yawls came into prominence under the CCA rating rule in the 1950s because the CCA rule did not measure the sail area carried between the main and the mizzen. This meant that the added sail area of the mizzen staysails and mizzen spinnakers was free of any rating penalty. In that light, you could consider the ultra-traditional-looking yawl rig as a simple aberration of a rating rule. Yawls did dominate the racing scene. Do you remember Ondine, Figaro, Maruffa, Escapade, Dorade, Sabre and my all-time favorite Carina II? All yawls. Bill Luders created a yawl that had no mainsail and sailed under genoas and mizzen flying sails. It was called Storm, and without a mainsail, it had a very low rating and won everything in sight. This upset the rule makers so they changed the rule to require a mainsail. Next season Luders showed up with Storm — at 44 feet LOA — sporting a mainsail the size of a Laser's. He won again.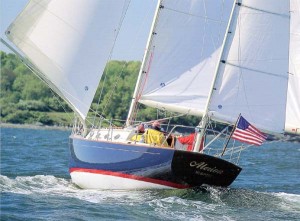 Today we tend to look at yawls as very traditional rigs. There are two very distinct advantages to yawls. The mizzen mast is a great place to locate the radar, and a fully battened mizzen sail can be left up at anchor as a riding sail, keeping the boat head to wind. I don't think the Alerion will see much drive out of its 66-square-foot mizzen. After all it is operating in the mainsail's dirty air. I can almost hear it gasping for breath. Note that this mizzen is unstayed.

If you put your finger over the mizzen, the boat looks like a well-proportioned sloop. The fractional rig has an SA/D of 21.76 even without the mizzen. So this will be a sprightly sailer in light to moderate air. The working jib is set on a Garry Hoyt-designed pivoting jib club. This arrangement keeps the clew of the jib from rising as you ease the sheet, maintaining good sail shape.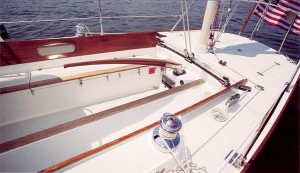 The hull shape is clean and modern with a traditional transom. The D/L is 170. Beam is on the low side at 10 feet, 9 inches. I like boats on the narrow side. If all else is equal, the narrow boat is the better boat. Narrow boats may give up a little in initial form stability, but they feel better, steer better and, in general, have better handling characteristics than the fatsos. This design has a generous beam at the waterline and very little flare to the topsides resulting in excellent initial form stability.

The interior is a pure "basic A" layout and close to ideal. Don't let the overall simplicity and 90-degree angles fool you. This layout is versatile and comfortable for a couple with kids, although I would prefer to see a sit-down chart table. Why not sit on the head of the quarter berth and turn the table 90 degrees? I'm not crazy about the galley, but a boat of this size does have its limitations.

TPI builds these boats, and the one I saw at Atlantic City was a dark-blue sparkling gem. It sure is nice to see boats that buck the Euro-styling trend. It's also nice to see a designer who isn't afraid to buck the maxi-beam trend.

Boat Specifications
| | |
| --- | --- |
| LOA | 38'5" |
| LWL | 30'1" |
| Beam | 10'9" |
| Draft | 5'10" |
| Displacement | 10,400 lbs. |
| Ballast | 4,200 lbs. |
| Sail Area | 712 sq. ft. |
| SA/D | 21.76 |
| D/L | 170 |
| L/B | 3.57 |

This story originally appeared in Sailing Magazine, and is republished here by permission. Subscribe to Sailing.