See more articles
Perry Design Review: Baltic 50
High-horsepower cruiser with a racing spirit
Baltic has always been one of my favorite boat builders. The company has taken styling to new heights while producing very handsome boats.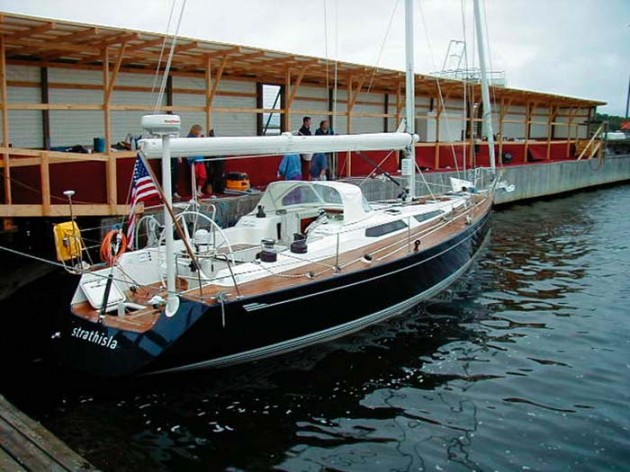 Baltics, like Nautor's Swans, have tried to walk the line between racing and cruising boats. This has resulted in a series of hybrid boats that, in my opinion, generally compromise both sides of the equation too much. Baltic has used a number of different designers; this time, it went to Bill Tripp's office for the dual-purpose Baltic 50. The styling and interior design work was done by R&J Design, Baltic's in-house designer.

Based upon an IMS-friendly shape, this 50-footer attempts to combine race-boat speed with cruiser comfort. I know &#8212 everybody says that. Tripp has produced some very fast boats, and I would think that you could be competitive with this boat in most fleets.

The hull is typical of what we see on race boats today. Displacement is low with a D/L of 113, indicating a long and light boat. It will take some doing on the builder's part to ensure that this weight is met. The gear required to make any boat a cruiser is fixed in its weight and that weight can add up quickly. Think: gen set, inverter, roller furling, heating, etc. The keel and rudder are deep, high-aspect-ratio blades. Draft is 9.9 feet, but we can call it 10 feet.

The interior is where the builder is going to have to get very creative with materials and methods if the target weight is to be met. There are three layouts offered. Layout No. 1 appears to be the cruisiest with shower forward and a wraparound dinette. Layout No. 3 appears to be the raciest with straight settee-berths and a starboard quarter cabin that is converted to a pipe berth crew area. All these layouts are fine, but I just can't find the sparkle or "wow" quality in them that distinguished previous Baltic interiors. This might be evidence of a weight-saving design and the use of one-off composite panels. Maybe there's a new interior design team.

The SA/D is 27.6. You will need this horsepower on the race course, but cruising is a different matter. Think about the amount of time you will spend sailing in light air. If you motor a lot you may want to give away light-air speed for the ability to carry full sail in a breeze. It's a personal, sailing-style decision. If you have a boat full of teenage boys, go for the big rig. If it's just the two of you, maybe you should consider a shorter rig. With this rig height, you could cruise very quickly without overlapping headsails. Note the roach overlapping the backstay. I'm doing that with my new mainsail. I'll let you know how I like it.

The profile shows a sleek, racy-looking boat with more cabintrunk than the typical racing boat. Baltic's deck work is always beautifully detailed and sculpted. The big cockpit opens up to the transom. There are convenient bun-cheek chamfers in the cockpit coaming so the helmsman can be comfortable while heeled. The cockpit seats appear to be too short for sleeping. I can't see why they weren't extended an extra 24 inches.

This is a touring sports car, like the new Jag convertible. It will give you the impression you are cruising on a thoroughbred. "Time for a spinnaker peel, dear."

High-horsepower cruiser designed to be a competitive racer.

| | |
| --- | --- |
| LOA | 50' |
| LWL | 43'7" |
| Beam | 14" |
| Draft | 9'11" |
| Displacement | 21,069 lbs. |
| Ballast | 9,000 lbs. |
| Sail Area | 1,316 sq. ft. |
| SA/D | 27.6 |
| D/L | 113 |
| L/B | 3.57 |
| Auxiliary | 51-horsepower Yanmar diesel |
| Fuel | 34.32 gals. |
| Water | 66 gals. |

This story originally appeared in Sailing Magazine, and is republished here by permission. Subscribe to Sailing.