See more articles
Perry Design Review: Farr 60
A comfortable performance cruiser from Bruce Farr
Let's kick the tech level up a few notches and look at this Bruce Farr design built in England. It was interesting to watch Laurie Davidson and Doug Peterson whip Bruce in the last America's Cup, but Bruce is still the king of performance sailboats, so we must be attentive to each and every nuance of the latest Farr designs.

Let's examine the hull. The underwater profile shows minimal rocker with a slight sign of bulging at station 7. This might be to help with engine installation. Distribution of beam seems normal for a wide-sterned boat. There is a lot of pressure in cruising designs to keep the fanny fat. It means more deck space, more interior volume and a better swim platform. It also may pay some performance dividends as it will enhance stability and speed while under power. Put the pedal to the metal and this stern will not easily squat, which will give you a better top end under power.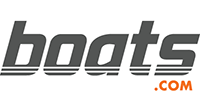 The rudder is a balanced spade and the keel a winged fin. Ramer, a friend of mine, said, after backing down onto a coral head in Bora Bora, that skegs are the only way to go. He just might be right, but we still see lots of spade rudders on cruising boats. Spades steer the boat better, especially at slower speeds. They allow a more careful shaping of the rudder foils and a reduction in wetted surface. Spade rudders also feel nicer due to the balance area forward of the stock centerline. It becomes a subjective call dependent upon the client's inclinations.

You can get this boat with the Swan-type wedge deck cabintrunk, or a nice raised pilothouse. The wedge is sleek, but there are no opening ports and minimal visibility all the way around. The pilothouse model is a wee bit clunkier looking and still has no opening ports. Mind you, both versions are very good-looking boats if you can accept the short ends, and I certainly can.

While cruising a raised pilothouseboat of my own design, my wife joined my sons and me halfway through the cruise. Upon stepping below she surveyed the wide expanse of glass, sunlight and visibility and said, "I don't know why all boats aren't designed like this." Thank you, dear.

Let's confine ourselves to the pilothouse interior. The accommodations feature staterooms for two couples, one in palatial splendor aft and the other, not quite as palatial, in a stateroom adjacent to the mast on the starboard side. In the same area on the port side is a stateroom with upper and lower berths. Both staterooms have adjoining heads with shower stalls. This is a comfy layout. Note the guest head aft on the starboard side.

If I were to pick on this design, I would say that the cockpit on either version looks too small. Cockpit wells intrude upon interior volume, so it serves the layout well to constrict the cockpit. However, if you sail this boat in a nice climate, you will spend most of your time in the cockpit, and that may warrant a compromise with interior volume.

The boats that spawned this design are Farr's Whitbread 60s. Now we will see if that beginning will give us a cruising yacht of equal importance.

Boat Specifications
| | |
| --- | --- |
| LOA | 60'3"; |
| LWL | 52'6"; |
| Beam | 18'; |
| Draft | 8'10"; |
| Displacement | 49,400 lbs.; |
| Ballast | 18,600 lbs.; |
| Sail Area | 1,674 sq. ft.; |
| SA/D | 21.06; |
| D/L | 152; |
| L/B | 3.35; |
| Auxiliary | 140-horsepower diesel; |
| Fuel | 374 gals.; |
| Water | 233 gals. |

This story originally appeared in Sailing Magazine, and is republished here by permission. Subscribe to Sailing.