See more articles
Perry Design Review: Jeanneau 42
Comfortable, well-designed cruiser with exquisite detailing
This boat by Guy Ribadeau Dumas, my favorite French designer, is extremely well put together. It's a pure cruising boat aimed at providing comfort and privacy for two couples. I would think that it will be in high demand on the charter circuit.

The hull form is moderate with plenty of beam carried into the stern. The boat is actually on the fat side, but that's what you would expect on a design that is being driven by interior requirements. The D/L is 231. The L/B is 3.11. If you are still fumbling for a grasp on comparative L/B figures, you can assume that a middle number is 3.4. Boats with L/Bs higher than 4 are narrow boats and L/Bs lower than 3.25 are wide. This ratio is just another way of quickly identifying a boat's general characteristics. The entry of the Jeanneau 42 is quite sharp, and the run is flattened in section with a nice hard turn to the bilge. It's no racing hull, but it's not a tubby pig either.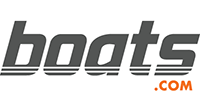 As far as styling goes, I give this boat an A+. The tooling details are exquisite. Many of the details are almost too small to be noticed immediately, but the accumulated effect of all this eye caviar is very impressive. For example, look at the ports in the cabintrunk. They straddle a tapering reveal line in the trunk sides, making the lower half of the portlights appear recessed. Normally you would make a recessed port by using a removable button in the mold that has to be taken out before the part could be pulled from the female mold. Jeanneau doesn't need this button because the recess on the top half of the port allows it to be pulled from the mold. I also like the terraced look to the swim step.

If there is a drawback to center-cockpit boats in this size range it's that the cockpit well drops down into the most voluminous part of the boat and subtracts from the available interior volume. In order to minimize this effect, the center cockpit can get pretty small and can approach the proportions of a miniature hot tub. I usually assume that the baseline criterion for cockpit dimensions is that the seats must be long enough to lie down on, which is about 6 feet 6 inches. I also favor very deep cockpit seats in excess of 20 inches. The 42's seats scale off at about 6 feet 8 inches long, although they appear quite narrow.

It's a good interior layout. I've never been wild about chairs in saloons. They don't look very yachtlike to me. But in this case there is not enough room to port for a full-length settee, so the two seats may be the best compromise. The aft cabin is palatial in proportion considering the 42-foot LOA. The interior finishing details are as well-executed as the external tooling.

Another drawback to this size of center-cockpit boat is that the accommodations tend to swell into the ends of the boat, leaving no volume for deck-access storage, i.e. forecastle and lazarette. This proves to be no problem for charter work, but it might be a problem for anyone considering long-range cruising. The 42-foot Jeanneau has two saddle lockers aft that encroach a little at the sides of the double berth. The propane locker is flush in the side deck amidships to port.

The rig is normal looking, though on the short side with double, swept spreaders and fore and aft lowers. An inside-the-mast furling main is standard. Note the wrap-around windshield. It's beautifully finished and provides an excellent base for the dodger.

Despite how you may personally feel about Euro-styling, this model shows a high level of skill in sculpting fiberglass. Overall it is a handsome boat that offers a well-balanced approach to the family cruising yacht.

Comfortable, well-designed cruiser with exquisite detailing.

Boat Specifications
| | |
| --- | --- |
| LOA | 42'1"; |
| LWL | 33'2"; |
| Beam | 13'6"; |
| Draft | 6'7" (deep keel), 5'5" (shallow keel); |
| Displacement | 18,920 lbs.; |
| Ballast | 5,742 lbs. (deep), 6,270 lbs. (shallow); |
| Sail Area | 734 sq. ft.; |
| SA/D | 16.23; |
| D/L | 231; |
| L/B | 3.11; |
| Auxiliary | Yanmar 59-horsepower diesel; |
| Fuel | 60 gals. |
| Water | 120 gals. |

This story originally appeared in Sailing Magazine, and is republished here by permission. Subscribe to Sailing.