Morgan is now a division of Catalina Yachts headed by Frank Butler. All the design work is done by an in-house team led by Gerry Douglas. If popularity is measured by number of boats produced, Catalina wins. Its buyers are loyal and band together in very active owners' groups. It's definitely the "let's have a good time" approach to yachting as opposed to the "I have to win this one" or "I'm going to conquer the sea" approaches.

Any designer would do a double take upon being told to design a center cockpit boat under 40 feet. Center cockpit designs always pose difficult aesthetic decisions, and the smaller the boat the tougher the problem. With that in mind, you have to give the designers of the new Morgan 38 an A+. Certainly it's no Alerion-Express, but considering the design objective, it is a handsome boat from any angle. The bulk of the cabin trunk was augmented with clever sculpting and subtle striping to downplay the overall height. The short ends and straight sheer line work well together and give the 38 a nice contemporary look.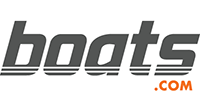 The interior layout is designed specifically for the charter trade. There are accommodations for four with two heads. The aft head has a shower and is accessible from both the aft cabin and the main cabin. The galley runs down the starboard side of the space alongside the cockpit. It's an amazing layout for 38 feet. If it's tight anywhere, it would be forward, but it will work. The settee in the main cabin converts to an additional double berth.

The hull shape uses a wide stern to get the volume required aft. The D/L ratio is 185, and I can't see any reason this boat wouldn't be a good performer. Of course, it will have more windage than a racing boat, and the main boom has to be high enough to clear heads in the elevated cockpit, but the hull looks good. The 38 comes with an optional winged keel giving 5'2" draft of a 6'6" straight fin keel. The rudder is a modern semi-balanced spade.

The rig is conservative. There are forward and aft lowers and double spreaders. The mainsheet traveler is located conveniently just aft of the cockpit. The SA/D ratio for the wing keel version is 16.6.

It is clear that the Catalina/Morgan group has done its homework once again and given us a model that will be in high demand. I commend the designers for a graceful solution to a demanding problem.

Boat Specifications
| | |
| --- | --- |
| LOA | 38'5" |
| LWL | 34'10" |
| Beam | 12'4" |
| Draft | 5'2" - 6'6" |
| Displacement | 17500 lbs. |
| Ballast | 6800 lbs. |
| Sail Area | 700 sq. ft. |
| SA/D ratio | 16.6 |
| D/L ratio | 185 |
| Auxiliary | Yanmar 35 |
| Fuel | 50 gals. |
| Water | 100 gals. |

This story originally appeared in Sailing Magazine, and is republished here by permission. Subscribe to Sailing.