See more articles
Tartan 412: Bob Perry Design Review
Tartan 412 is an All-round modern sloop by Jackett
Tartan's new 412 began with their previously-successful model, the Tartan 40. The design was done by Tim Jackett, Tartan's in-house designer. The hull form of the 412 starts with a midsection reminiscent of the IOR, with flat sections in the middle, turning to slack bilges around what would have been the CMD (center mid-depth) point. The BWL is generous and the topsides even show a slight hint of tumblehome in the upper six inches at station 5. This shape combination can make for an unusually shapely and handsome hull. The sections forward are U-shaped, and the sections aft develop some deadrise starting about station 7. The canoe body profile shows a slight hollow just forward of the rudder and a very small skeg. Two keels are available: a deep draft version drawing 7 feet, 6 inches, and a centerboard model drawing 5 feet, 1 inch. The D/L ratio of this design is 266.

Jackett uses angled bulkheads to an advantage in this interior. It takes a careful balancing act to angle the bulkheads so that you always appear to be gaining useful space, while in reality you are taking space away from another area. The 412 is done well and all areas seem to gain. The aft head has a separate shower stall with direct access from the quarter-cabin. The galley is spacious and offers a lot of counter space.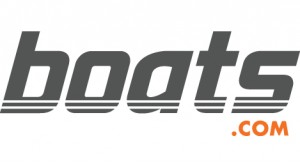 This deck plan has stemmed from a line of dual-purpose decks that offer comfort and efficiency. The side decks are wide, with chainplates inboard and the genoa tracks located for close sheeting angles. The T-shaped cockpit has wide coamings which wrap around forward in case you want to bring the primary winches closer to centerline. All lines are led aft to rope clutches. There is a partial bridgedeck.

The 412 is rigged as a tall sloop with single lowers and double spreaders. There is a babystay forward and the spar is drawn with about eight inches of pre-bend. The SA/D ratio for this design is 17.31.

Boat Specifications
| | |
| --- | --- |
| LOA | 41'2" |
| LWL | 31'5" |
| Beam | 12'8" |
| Draft | 7'6" to 5'1" |
| Displacement | 18,500 lbs. |
| Ballast | 8,000 lbs. |
| Sail Area | 757 sq. ft. |
| SA/D ratio | 17.31 |
| D/L ratio | 266 |
| Auxiliary | Universal 50 |
| Fuel | 34 gal. |
| Water | 120 gal. |

This story originally appeared in Sailing Magazine, and is republished here by permission. Subscribe to Sailing.