See more articles
Pershing 62 Video: First Look
The 2015 Pershing 62 is a show-stopping yacht.
All the biggest builders in the boating world show up at the Dusseldorf boat show, and in 2015, our reviewer Alex Smith spent days wandering through row after row of hulls and decks. One boat that drew his attention was the new Pershing 62. Step on board and take a look.


The styling and looks of this powerboat might be what caught Alex's eye, but it's the performance figures that are the big surprise. 55 miles per hour, in a 62-footer? That's some serious juice.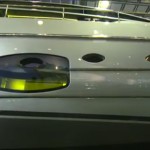 And once inside, it becomes clear that Pershing doesn't sacrifice one iota of comfort or luxury to gain that kind of performance. In fact, it seems fair to call the 62 a power yacht, instead of powerboat.

Besides, we haven't mentioned bling yet—did you catch that disappearing aft window? The sliding cabin doors? Yeah, we thought so.

To learn more about the 62, visit Pershing, or take a look at some Pershing listings.