See more articles
Platinum 25 RFL and Platinum Series: Video Boat Review
Our video boat review of Lowe's flagship pontoon boat.


Read Lenny's Lowe Platinum 25 RFL Boat Test Notes

VIDEO BOAT REVIEW TRANSCRIPT

You know there is no time to plane, it's instantaneous!

Are you a Chevy guy, or a Cadillac guy? If you're a Cadillac guy, you might have a tough time finding the right pontoon boat for you and your family. You want something that's high end, that has all the trimmings, that's really comfortable.

We came to Lake of the Ozarks to test out Lowe's Platinum pontoon boats.

Interview with Tony Johns from Lowe Boats

Now we're on the Platinum 25 RFL, right?

Tony: That's correct.

And this is just the flagship of a series of new pontoon boats for Lowe, right?

Tony: Yeah, that's right. What we've got available right now actually is the 25RFL which we're currently in, we've got the 23RFL, which happens to be the boat running beside us right here.

Now I notice that the 23 running next to us here has a big towbar on it.

Tony: Yeah it does actually. That's a brand new part for us, custom to the series of Platinum boats.

Now could you get that same setup on the 25?

Tony: Yes you can get the same set up on the 25, as long as you get the triple log version.

Features
Wow, this boat has a killer stereo. Will you tell me a little bit about it?

Tony: Sure. This boat's equipped with a Sony stereo, an Alpine amplifier, a two inch kicker subwoofer, and four 6.5 inch kicker speakers.

I gotta ask you, how many watts?

Tony: 600.

Wow, 600 watts!

What's very different from other pontoon boats is this carpet.

Tony: Yeah, it's 32 oz custom two color woven carpet.

Here we've got a teak deck just like on an old fashioned boat, right?

Tony: It looks teak. This is actually a simulated teak or faux teak deck. It gives the luxurious appearance of real teak wood. If you run your hands down it, you can actually feel the indentation like the wood grain on it. It's extremely tactile, the tack of it, it's not slippery at all. We've got a little wet spot back here and it squeaks like it would on a gym floor. Just like wood would.

So Tony, you're out on the water with your wife and kids, you're having a great day, everybody goes swimming, they got the swim ladder on the back, they jump in the water, swim around, they come back up, everybody's wet—where do you change?

Tony: Well we got that right here. We flip up this large tanning pad and we've got a flipup changing room with a nice close to full-length mirror in there, similar to what you'd have in your bedroom at home or something like that. Just undo those two straps and flip the cover right up.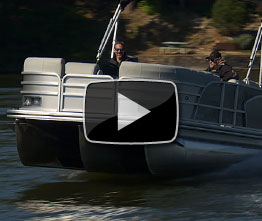 Performance
The triple pontoon design really works out well. It gives you great handling. You can see it handles more like a v-bottom than it does like a twin pontoon boat. And with a 300HP Merc on the back it provides some stellar performance. We broke 45 mph today. And cruising speeds, the range from the low 20's all the way up into the mid-30's, at very fuel efficient cruises, because this boat planes out so quickly and easily.

After running this boat on two separate days, in two separate weather conditions, one day a little windier and choppier, today nice and flat calm, there's no doubt in my mind that this triple pontoon design really gives you some incredible handling.

WrapUp
The Platinum 25 is the biggest in Lowe's fleet of pontoon boats. But is it worthy of the title flagship? After spending two days running this boat, I say: Oh heck yeah!



Lenny Rudow has been a writer and editor in the marine field for over two decades and has authored five books. He runs his own web site at HookedOnFishingBoats.com and writes weekly for Boats.com reviewing new models and covering marine electronics.