See more articles
Lowe Platinum 25 RFL: Boat Test Notes
Reviewer Lenny Rudow digs into the specifics of Suncruiser's flagship pontoon series.
Watch the Platinum Series Video Boat Review.




Overview: The Platinum 25 is a pontoon boat with a sporty attitude—it's super-comfy, surprisingly fast, and it handles more like a monohull than an average pontoon boat. Other models in the line share the same traits.

Concept:



Create a new top-shelf model line of pontoon boats for Lowe featuring the flagship of the flagships, the Platinum 25.


Three-log design allows for better handling at higher speeds, and incorporates more ability to plane than average pontoons.


Luxury levels well above the norm, plus better looks and equipment than the average pontoon line.


Construction: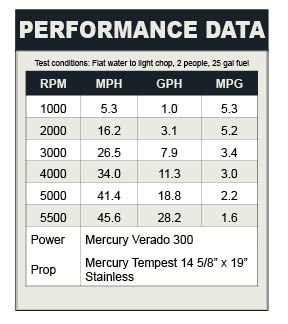 Welded aluminum construction.


Every component is a grade above the norm: carpet is 32-oz. instead of 20-something; vinyls are tough but comfortable "Soft Touch" fabric; roto-molded seat bases are much thicker than usual and don't oil-can when pushed or prodded.


Performance:


Startling, shocking, WOW – we broke 45-mph!


Mid-range acceleration is head-snapping.


A one-foot chop and small boat wakes have little to no effect, even when running fast.


Handling:


Cornering and turning is more like a monohull than a pontoon, thanks to the triple-log design.


The center log is slightly lower than the outer ones, allowing the boat to essentially bank and carve turns.


Stability is excellent, again in no small part due to the triple-log design.


Features:


Two-tone Soft Touch fabric has metallic flake finish, which gives the boat an unusual look.


Pop-up changing station under aft sunpad is compact, allowing extra room for watertoy stowage.


Self-leveling arms on captain's chair make it extra-comfy.


600-watt sub-woofer provides kick-butt tunes.



MORE INFORMATION
Visit the Lowe Boats website.