See more articles
Platinum 25 RFL: Pontoon Boat for Our Time
It may not look advanced at first glimpse, but the Platinum 25 belongs to a new breed of pontoon boats.
Pontoon boats used to be the laughing stock of the sea. They looked boxy, rode like bathtubs, and performed only slightly better than boats powered by oars. But "used to be" are the operative words, when comparing the boats of yore to modern 'toons. And when I spent some time lately aboard a Lowe Platinum 25, the new flagship of Lowe's pontoon boat line-up, the only reason I laughed was because I was having such a good time.





Design Characteristics

One of the key features of this boat explains why it excels in stability, handling, and overall performance: the running bottom design, which incorporates a third "log" mounted between the port and starboard pontoons. We've seen triple-log designs plenty of times in the past; they add buoyancy, planing surface, and stability. But the Platinum 25's design combines this with a set of wing-like appendages which are welded onto the outer pontoons to boost the boat's planing abilities even more. They're upturned at the bow to prevent it from digging in, and they sweep down and shrink in size as they move aft.

Another design tweak adding to the Platinum's V-hull-like performance is the placement of that center log. It's about an inch lower than those on the sides, which helps the boat bank in and grip the water during turns, unlike other pontoons. You can see the effect in action in our Platinum 25 RFL and Platinum Series: Video Boat Review.

I can attest to the fact that sharp, sudden turns of the wheel don't cause this boat to skid or slide, nor do they throw you or your passengers towards the outside of the boat. In fact, handling is downright sporty. The hulls keep you in full control at all times, and what's even more surprising is that they chop up waves nicely. I ran the boat on Lake of the Ozarks over a two-day stretch, which had both breezy and calm periods. Whether there were mere ripples, a one-foot chop, or boat wakes to contend with, the Platinum never flinched nor threw spray.



Performance

Adding that center pontoon also allows Lowe to boost the maximum power package, and the boat we tested had a honkin' big 300-hp Mercury Verado riding on the motor pod. Can a 'toon really handle a stable of horses this large and rowdy? You bet—slam down the throttle, point the bow towards open water, and you'll be ripping across the surface at over 45 mph. That's mighty darn zippy for a type of boat that was once thought of as little more than a large lake lounger.

And getting up to speed is half the fun. One of the advantages of the extra planing surface is this boat's ability to come onto plane very quickly. In fact, it transitions from displacement speed to planing so smoothly, you'll have a tough time deciding exactly when it happens. Bow rise is non-existent, and the boat seems to merely levitate itself bit by bit as you go faster and faster. At just 2000 rpm we cruised at 16.2 mph, which is certainly above displacement speeds, yet there was no discernable moment when the boat came "over the hump."

Construction

The Platinum's basic construction follows Lowe's pontoon boat modus operandi: the boat's structure is wood-free, constructed of welded aluminum in a series of interlocking channels and supports. But there are also plenty of ways this flagship differs from the norm.

The furniture is rotomolded polyethylene, but it's notably thicker and stiffer than what you'll find on most boats. Shove against the seat-backs or bases, and there's no oil-canning. The fabric covering is rugged but soft (it carries the moniker "Soft Touch"), with a feel close to that of ultra-leather. And it looks better than most, with two-tone shading that includes a metal-flake appearance to match the other colors and finishes found on the Platinum.

The aft decking is also a bit unusual; it's faux teak instead of the common aluminum or carpeted aluminum, and this is the good stuff—it has a real-feeling grain molded into the surface, it looks real, and it's grippy when wet. Whether you're a bather or a tow-toy lover, you'll appreciate the sure footing when you re-board the boat, soaking wet and barefoot.

Even the carpeting is a cut above the norm. The 32-ounce material has a two-tone pattern that matches the boat's overall décor. Most pontoons are outfitted with 20-something-ounce carpeting, which wears out more quickly, isn't as resistant to damage, and doesn't feel as fluffy between your toes.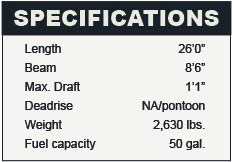 The Fun Factor

You buy a pontoon boat to relax, get a tan, and have fun—so you expect a high-end model like the Platinum 25 to be stocked with features that boost your comfort level. Stocked it is. Start out with the helm chair: it's thickly padded and has a pair of self-leveling armrests that remain parallel to the deck even when you tilt the chair back to go into maximum relaxation mode. Then check out the bimini top, which provides gobs of shade on blazing-hot days; its supports are twice as thick as the norm so it doesn't sway or shake. And make sure you crank up the stereo and find out what 600 watts of musical power can do for you, because the Platinum's optional sound system is top-notch.

Naturally the boat has the requisite forward and side lounges, equipped with puffy bolsters in the seat-backs. Yes, of course there's a huge sun lounge aft which can accommodate a trio of tanners. And yes, you will discover a pop-out changing station when you tilt that lounge up. It's a little on the small side, and a larger private area with enough room for a head would be nice, but Lowe chose instead to leave most of the space down here open, so you have plenty of room for water-toy stowage. That'll be a good perk for those who enjoy a multitude of watersports, ranging from waterskiing to kneeboarding to tubing.

Back in the day, you might have laughed at a pontoon. After checking out the Platinum 25, you won't be laughing at it—you'll be laughing with it.

Other pontoon boats to consider include the Harris FloteBote Grand Mariner SL250 (view the Boats.com Harris FloteBote Grand Mariner SL250: Video Boat Review) and Cypress Cay Cayman 250 (watch the Boats.com Cypress Cay Cayman 250: Video Boat Review)

For more information, watch the Boats.com Platinum 25 RFL and Platinum Series: Video Boat Review, or visit the Lowe Boats website.

—Lenny Rudow