See more articles
Vancouver 27: Pocket Voyager
The Vancouver 27 is a proven little cutter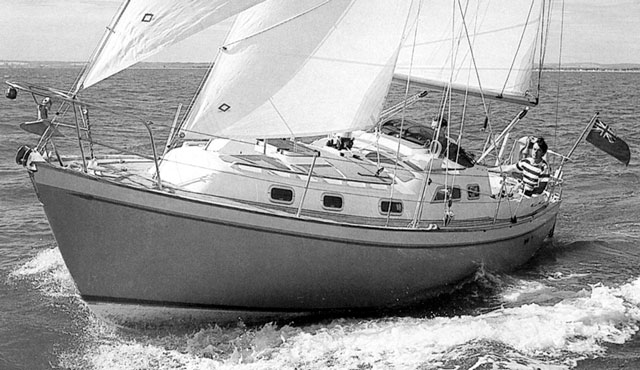 There are several small cruising boats that have gained reputations as safe and capable offshore designs. The Laurent Giles-designed, 25-foot Vertue, cruised extensively by Susan and Eric Hiscock, may be the most famous little cruiser, although the Contessa 26, Island Packet 27, Orion 27, and Sabre 28 and all have their followings. Among these "pocket voyagers" the Vancouver 27, designed by Robert Harris, stands out as a small boat with truly big boat capabilities.

We first saw drawings of the little boat in a Sail magazine new boat review in ... 1973! At the time we got our hands on the magazine, we were sailing a 30-foot Tahiti ketch west across the South Pacific as crew for an old friend. The businesslike lines, the true cutter rig, the sensible small-boat layout Vancouver 27 had an immediate attraction; here was a little boat that could go just about anywhere, we thought.

It turned out to be true. Several of these handsome little boats have ventured far and wide around the world. In the early 1970s, hull number one sailed from British Columbia to New Zealand and back. More recently, English sailor Rona House, completed a solo circumnavigation aboard her Vancouver 27, a cruise that earned Rona the Ocean Cruising Club's Rose Medal for a meritorious shorthanded voyage. Unlike many of her larger sisterships, you're more likely to see a Vancouver 27 in Tasmania or Iceland than you are in the quiet marinas of home. That's why we like the design.

There is no racer-cruiser compromise in the Vancouver 27. Conceived from the start as a boat for a couple to sail the oceans of the worlds, top-end speed and weatherliness have been sacrificed in favor of stability, ease of handling, load carrying ability and comfortable accommodations.

The boat has a heavy displacement hull form, with a long keel and cutaway forefoot. The propeller is protected in an aperture, while the transom-hung rudder is both positioned well aft and is easy to reach for repairs. Equally important in a voyaging boat, the outboard rudder can be fitted with a simple and effective self steering device. The heel of the rudder is its weakest point, and should be inspected carefully by prospective buyers.

With a displacement length ratio of 328, the design is robust and heavy. But such a high figure is misleading in little ships of this size, belying the design's ability to sail effectively in light breeze's simply because of is small size and moderate beam-to-length ratio. Moreover, with a sail area-displacement ratio of only 14 (quite low), the boat may appear both heavy and under canvassed. But that is not the case. The 27 will average 120 to 140 miles per day in the Trade Winds, with the occasional 150-mile day thrown in for good measure, and will achieve 110 miles per day and more in variable and head wind conditions. Because of its size, a couple will sail the boat to its potential more often than they could in a larger boat. The result, not surprisingly, is passage times comparable to those of boats 50 percent larger and costing three times as much.

The design is stiff, with a ballast to displacement ratio of 39 percent. The boat can carry working canvass up to 18 knots apparent; then, shortening down involves dowsing the staysail and tying in a reef in the mainsail. In strong breezes, the boat will jog along comfortably under triple reefed main and staysail. Because the hull is quite high sided, the decks tend to stay dry in all but the worst conditions. Oddly, however, when heeled hard over, the stern wave tends to slop spray and a little water into the cockpit, making weather cloths a necessary additon. The cockpit itself will seat four adults, but is small enough to reduce the risk of flooding from a boarding wave. The bridge-deck serves to strengthen the hull and will keep stray deck water out of the cabin.

One of the drawbacks of pocket cruisers is their inability to carry sufficient supplies for long-range cruising. This is not the case in the Vancouver 27, which has ample stowage for dry and canned good and tankage for 65 gallons of water and 45 gallons of diesel. The forward space of the interior has been given over to storage instead of berths, so spare parts, anchors, rodes and even a deflated, rolled up dinghy can be tucked safely away.

Because no effort has been made to provide more than three berths, the boat's interior incorporates several big boat features and 6-foot-6-inch headroom. This is a couple's boat, that can be a comfortable home for long periods. The galley to port and the quarter-berth and chart table to starboard are both of a size and style found on 36-footers. The galley was designed for a two-burner stove with an oven but by removing a little storage space a larger stove could be installed. The chart table is large enough for a real chart and the quarter berth is an excellent sea berth. The settee berths are long and wide enough for even a large person, but, unfortunately, no provision has been made in the layout for a double berth for harbor use. The head and forepeak storage are forward of the main saloon bulkhead.

The original Vancouver 27 was built as a one-off. When a second was commissioned, a fiberglass mold was taken off the hull and for several years the boat was built on a semi-production basis by, first, Tradewind Boats in Port Coquitlam, British Columbia, followed by Philbrooks Shipyard and finally Seair Marine Ltd of British Columbia. In 1988, the molds were destroyed in a severe storm and construction of the boat ceased in North America.

But the Vancouver 27 has had a long and active life in England, where it is now being built as the Vancouver 28 by Northshore Yachts Ltd.. In the past 20 years, more than 250 of these little passagemakers have been built and many are out voyaging around the world. They occasionally come on the market in the United States, but for those willing to start their cruise in the United Kingdom, the widest selection of the boats will be found there.

As a boat to build as a one-off, or to refit for ocean cruising, the little Vancouver 27 is a broad shouldered little passagemaker that has looked after crews at sea for a generation and will continue to do so for generations to come. Older boats can be bought for $20,000 while newer models built by Northshore will run closer to $40,000.

Boat Specifications
| | |
| --- | --- |
| LOA | 27'00" |
| LWL | 22'11" |
| Beam | 8'8" |
| Draft | 4'3" |
| Sail Area | 379 sq. ft. |
| Disp. | 8,700 lbs |
| Ballast | 3,500 lbs. |
| Head Room | 6'6" |
| SA/Disp | 14 |
| Disp/L | 328 |
| Pal./Disp | 38.5% |
| Water | 65 |
| Fuel | 45 |
| Aux. Eng. | 3 cyl. Yanmar |

For more information, study plans ($50), and construction plans ($600) contact Robert Harris, 408-611 Alexander St., Vancouver, B.C. Canada V6A 1E1 phone: (604) 253-9222.

For more information on new and brokerage boats in the United Kingdom, contact Northshore Yacht Yards Ltd., Itchenor Shipyard, Itchenor, Chichester, West Sussex, England PO187AY.

Blue Water Upgrade

Using the 20 Percent Limit, here's how BWS would upgrade a used Vancouver 27 for extended cruising and passagemaking. With a purchase price of $30,000 and only basic coastal gear to work with, we would plan to spend $6,000 to make the boat ready for blue water sailing ... dinghy not included.

Self steering: Tiller autopilot ($400); Custom wind vane steering ($950).

Electronics: GPS ($300); Depth/Log/Speedo ($700); refurbished SSB/Ham transceiver, tuner & antenna ($900).

Rig: storm jib & gear ($450).

Safety gear: Refurbished 4-man life raft ($800); EPIRB ($240); Grab bag ($200); high output manual bilge pump ($200); drogue ($170).

Anchors & Tackle: spare 22 lb. hooking type ($250); storm 45 lb. hooking type ($450); spare 250-foot anchor rode with 30' ($140).

Electrical: House battery (8D-220 amp/hr.) ($275); high output alternator ($300); 3-step regulator ($160); battery monitor ($170).

Miscellaneous: Cockpit dodger ($700); wind scoops ($50); lee cloths & weather cloths ($50); spare compass ($75); plastic sextant & tables ($170).

That comes to $6,480 ... and what about radar, pressure hot water and refrigeration?