See more articles
Pursuit OS 235: Multiple Personalities
With a cuddy cabin for near-shore voyaging, design features fit for fishermen, and the power to pull skiers, this 23-footer is more than adaptable.
The people at Pursuit Boats know their cuddy cabin models will be used for everything from cruising to waterskiing to fishing, and they designed the OS 235 to be one of the most versatile boats on the water. Were they successful? After spending an afternoon of wakeboarding aboard one, I have to say yes—the entire time we zipped across the river the boat performed the toy-towing task admirably. Meanwhile I was distracted by the urge to fish… yet I also wanted to take the helm and begin a voyage to some not-too-distant port.





The OS 235's versatility starts with its basic design. Though relatively small, the cockpit is wide open so several people can fish; though compact, the cabin is big enough for a couple to overnight. The single 250-hp Yamaha four-stroke powerplant has enough oomph to drag a boarder or a skier right out of the hole. It can also push the boat to a top speed of 45.5 mph, and cruise it at a reasonable 32 mpg while getting better than 2.6 miles to the gallon.

The multi-use nature is expanded by how Pursuit equips the boat. Some of the standard features are perfect for watersports—the aft-facing lounge which converts into a sun lounge, for example. Others are clearly appropriate for boaters who enjoy trips to new places: Consider the standard head with pump-out, or the bimini top. Still more features, including the under-gunwale rodracks and 30-gallon integrated fishbox/cooler, are clearly included for the fishermen among us.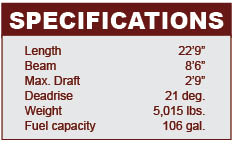 One surprising trait boaters of all types should find interesting is the centered helm position. The cabin entry is on the starboard side, while to port there are cupholders and a glove box. This not only makes it easier for the captain to run the boat, it also makes it possible for passengers to stand on either side and engage in conversation. And on the Pursuit OS 235, that conversation will probably include all kinds of topics—like watersports, cruising, fishing, and which one of these things you'll decide to do next.

Similar choices in this type of boat include the Scout 225 Abaco, Grady-White Gulfstream 232, and Robalo R225.

For more information, visit Pursuit Boats.

—Lenny Rudow