See more articles
Pursuit OS 385: This Beast is a Beauty
Triple outboard power for an offshore boat pushing 40 feet LOA? Pursuit Boats does it well.
Many boatbuilders have cut back on the size and opulence of their offerings during the economic downturn, but not Pursuit Boats – just look to their OS 385 for evidence. This is one of the biggest beauties you'll find in the world of outboard powerboats, and like many of Pursuit's new offerings, such as the DC 265, it sets the bar for its class.





The OS 385 is a monster for an outboard boat, with 18,985 pounds of displacement, nearly 40 feet of LOA, and 1,050 horsepower hanging on the transom. Can an outboard boat this big really perform like a champ? You bet—firewall the throttles and the OS 385 shoots up to an eye-opening 54.1-mph. Set a cruise at 4500 RPM, and it coasts along at 39.3 mph. Think you can find an inboard express that delivers these kinds of speeds? Good luck.

Despite its massive footprint, the OS 385 maintains the graceful looks of smaller siblings like the OS 235, while delivering the multi-purpose talents of its center-console cousins, like the ST 310. Of course, with this much room to work with, the 385 offers just about everything these other Pursuits can cover, plus a whole lot more—like a cabin decked with khaya and maple, a full galley, a convertible dinette, a mid-cabin double berth, and a fully enclosed head with a separate shower.



Or consider the cockpit, which houses all the goodies you expect from a purebred battlewagon. There's a 50-gallon livewell, a pair of fishboxes with well over 100 gallons of total capacity, an insulated and refrigerated transom fishbox with a digitally-controlled thermostat, a raw water washdown, and aluminum reinforcement plates for a fighting chair and gunwale downrigger mounts. If you're a hard-core angler you'll add the optional 18-foot Rupp riggers, and if you're a mellow cruiser you'll instead add the forward deck lounge with cushions and grabrails.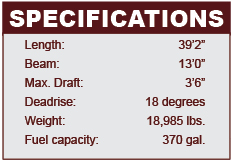 The bottom line: This boat wraps everything any Pursuit has to offer into one big, beautiful beast. If you're into cutbacks and downsizing, obviously, it isn't going to be your next ride. But if you want the largest, most luxurious outboard-powered boat in the marina, the OS 385 is right up your alley.

For more information, visit Pursuit Boats.

- Lenny Rudow