See more articles
Ranger 220 Bahia: Sweetwater One Day, Saltwater the Next
A hull design with features balanced for a range of conditions means angling versatility.
Many die-hard anglers wish for a fleet but have to make do with a single boat. One hull that can serve well in several situations is Ranger's new 220 Bahia. This light-tackle fishing machine is designed to cross over from flats angling for redfish and snook, to bay angling for speckled trout and stripers, to reservoir running for bass—and beyond.




The key to multi-functionality is versatile design and rigging, on a platform that can handle both shallow waters and relatively heavy seas. The boat has an open cockpit, fore and aft casting decks, and wide gunwales to allow for 360-degree casting. It's rigged with an 18- and a 19-gallon livewell, a 55-gallon fishbox, an 8'6" long locking rodbox, eight vertical rodholders, and multiple watertight stowage compartments. The hull design requires a mere foot of water to float, so it can coast over shallow flats and bars, yet it carries a semi-V bottom that can cleave its way through a choppy bay.

There are other multi-use fishboats that put the basic building blocks in place, but Ranger goes the extra mile with the 220. Look at the chines, for example. They're rounded where they meet the water when the boat's at rest, to reduce water-slap and noise that can spook wary redfish and shut off the bite. The "Rite-Track" keel design is another Ranger touch, which reduces the boat's lateral drift and improves tracking at trolling speeds.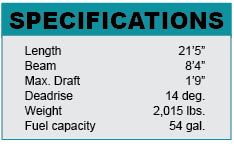 The 220 Bahia's construction is also a grade above the norm, with touches like a pultruded transom, heavy-duty six-gauge battery and trolling motor wiring, and a reinforced trolling motor mounting system. Fly fishers will wish the cleats were pop-ups instead of fixed, and gadget-lovers may be disappointed to find that there's not a heck of a lot of room for electronics at the helm, but road warriors will drool when they check out the custom-matched trailer. It comes with perks like hydraulic disc surge brakes, a swing-away tongue, torsion axles, and LED lighting. That'll ensure a smooth trip down the highway whether you're heading to a boat ramp on the bay or the launch at an inland reservoir. In either case, the Bahia 220 proves you don't need a fleet to catch redfish one day and cross over to bass fishing the next.

Other multi-function choices in the same ballpark include the Pathfinder 22 TRS, Lake & Bay Backwater 22, and NauticStar 2110 NauticBay.

For more information, visit Ranger Boats.

—Lenny Rudow