See more articles
Ranger Z120 Blasts to the Bass
High-tech, lightweight construction and advanced hull design make for a solid and fast fishing platform. And the standard trailer is top-notch.
Bass boats like the new Ranger Z120 are a breed unto their own, with performance and abilities that are uniquely suited to die-hard freshwater tournament fishing. Why should you be interested in the Z120? Wrong question—instead, ask yourself if you'd like to rip across the water at speeds in excess of 60 mph. If you'd like to throw the wheel hard over and make hairpin turns without the hull breaking free. If you'd like to chop the throttle, grab a rod, and be casting for ol' bucket-mouth in a matter of seconds. If you say "yes, yes, and yes," then be forewarned: high performance and awesome fishability may be obvious traits of this boat, but there's a lot more to the story.





The biggest perk to owning a Z120 actually has nothing to do with the boat, and everything with getting it to the water. It comes with a standard dual-torsion-axle Ranger trailer, designed to fit the boat like a glove. This is a high-end roadster, with built-in ratcheting tie-down straps, integrated fender steps, oil-bath bearings, a full-sized spare tire, a rubbery protective "Road Armor" finish, a center-swing jack, a lockable folding tongue, and a wiring harness sheathed in steel conduit. Those of us who have extensive trailering experience know that a boat's trailer is just as important as the boat itself, and eliminating the myriad of problems that can crop up on the asphalt will save you hassles and eliminate days or weeks of lost water-time due to mechanical problems, tough launches, and tougher retrieves.



Fishing features run the gamut, from locking eight-foot rodboxes, to a standard 24-volt Minn Kota electric trolling motor, to a built-in tackle organizer. The livewell system for the Z120 is on the thin side, however, with a single aft-deck well with a divider and aerator timer. It's executed and equipped well, but at 26 gallons it may leave you a bit short in the capacity department, particularly if you like to fish with live baits or make a big catch early in the morning and need to keep it healthy all day long. The upside to this design choice? You'll discover more dry stowage compartments than usual, including three in the aft deck and a massive stowage compartment in the bowdeck, plus that dedicated tackle compartment.



Another place you'll find surprising benefits comes when examining the Z120's construction. The use of pultruded parts is extensive, in both the transom and in critical area reinforcements. Just what the heck is a pultruded part, anyway? The name comes by combining the words "pull" and "extrude." Fiberglass is tensioned, rolled through a resin bath, and then pulled through a temperature-controlled die. As a result the glass is resin-impregnated to the perfect level, excess gets squeezed away, and fibers are organized into specific shapes. You end up with an amazingly strong, dense part, which is ideal for high-stress areas of the boat.

Other construction highlights include reinforced strakes, a one-piece "Interlock" deck, and closed-cell urethane coring.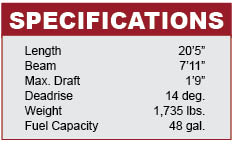 What all of this adds up to is obvious when you crank the ignition and start wave-hopping at eye-watering speeds. The boat lands like a brick you-know-what, free of vibrations or hard impacts. In fact, in my experience Ranger bass boats tend to ride smoother than most deep-V designed hulls running at comparable speeds.

Don't take my word for it, though. Take one for a sea trial and feel it first-hand for yourself—but only if you want to rip across the water's surface, carve hair-pin turns at high speeds, and attack those big bass with a vengeance.

Comparison shoppers will want to see the Triton 21XS and Skeeter FX 21.

For more information, visit Ranger Boats.

—Lenny Rudow