See more articles
The Oyster 55: Reader Survey
Oyster 55: Blue Water Sailing's readers rate this elegant passagemaker
Integral to Oyster Marine Ltd.'s unofficial mission statement is the promise to prospective owners to "show you how to make the world your Oyster." For more than quarter of a century, Oyster has been backing up this pledge with a fleet of passagemakers ranging from 37 to 82 feet LOA. that have plain and simply aced the test of the sea miles. For a yard that builds a relatively small number of boats on a custom basis each year, the numbers of their boats that enter transoceanic and around-the-world races and rallies is nothing less than astounding. For example, in the 1995-96 Trade Winds Round the World rally, nine of the 30 entries were Oysters. As Oyster Marine points out, 30 percent of the owners in the fleet chose Oysters for their circumnavigations. Even more remarkable is the fact that eight of these nine Oysters were Oyster 55s designed by Don Pye of Holman &!amp; Pye.

The 55 evolved from the now-defunct 53 through, according to an Oyster spokesman, some "fiddling with the transom." Owners hail from such disparate parts of the world as North and South America, Russia, Germany, Holland, Scandinavia, Malaysia, Japan and, of course, the United Kingdom. The English sailing magazine Yachting World held the 55 in sufficiently high esteem to recently proclaim: "If we had to pick an example that all the world's builders should aspire to, it would be the Oyster 55, a cruising yacht with luxury, style and seamanlike qualities in abundance."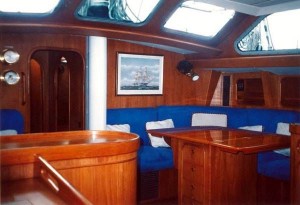 Because the 55's are so well appointed below, the boat's "seamanlike qualities" often take a back seat to "luxury and style" in U.S. consumers' perceptions. The yard's promotional literature reinforces this notion with such proclamations as: "But it is down below where she scores so well . . . ." This is a mistake, for not only have Oyster 55s probed just about every backwater in the world, and crossed oceans to get to them, one 55, Flying Scotsman, has twice been overall winner of the cruising division at Antigua Race Week. It takes a lot more than an Andrew Winch-designed raised saloon or Oyster's custom Wedgewood bone-china dinner service for eight to put hundreds of thousands of workmanlike sea miles under the keels of these boats. This has not been lost on BWS readers who own Oyster 55s, who gave consistently high scores to the boat in most passagemaking categories.

Offshore qualities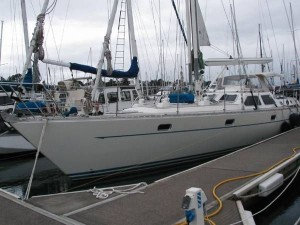 With her seagoing background, you know she's a passagemaker. Our readers agree, giving the Oyster 55 an overall offshore rating of 9.5 All Oyster respondents had sailed their 55's offshore, and the average longest passage among them was just under 900 miles, and most prodigious noon-to-noons ranged from 170 to 190 miles. The owner of the 55 logging the longest offshore passage, 1,250 miles, reports that his boat averages 170 miles a day while on an extended passage. Two-hundred-mile days should not be too rare when conditions are right. Her Displacement/Length (D/L) of 242 tells us that this is a moderate cruising auxiliary. The Pearson 424, which we reviewed last month, has a similar D/L at 246, as does the Freedom 42 (247), the Swan 53 (258), and the Valiant 40 (256), which we reviewed in the October issue.

The relatively low D/L of 242 might suggest that Oyster 55 is unable to carry the volume of cruising cargo of, say, an Alden 54 with a D/L of 265. However, Oyster has countered this with a long waterline (45-feet-5-inches on a 55-feet-3-inches hull length) and their deck saloon arrangement. This effectively raises the saloon sole and, accordingly, the "pilot-house" or doghouse, which not only improves visibility and increases light below, but also opens up more tankage and stowage beneath the sole. In the states, this arrangement is commonly called a "raised saloon."

In the BWS reader survey, the average score for cockpit protection in the 55 was between 8 and 9 (a score of 10 being perfect); we assume most of these boats are sailing with dodgers. Life raft stowage received perfect scores which, in view of the 55's self-draining life raft locker in the aft deck, is understandable. Dinghy storage garnered 9s and 10s, due in part to the popularity of dinghy davits, but also because of a capacious lazarette and room forward of the mast for an inflated or hard dinghy. Motion in a seaway received 9s, which should not be surprising for the Comfort Ratios for most of the larger Oysters run in the low 40s. Most modern voyaging boats have Comfort Ratios in the 30s. The higher the score, the lower the motion, and the less the human gyroscope will be affected. Comfort Ratios are based on the amount of displacement being lifted by a wave and the surface area that is impacted by it.

Deck safety, lifelines and reefing setup averaged 9s. The decks are wide and relatively clean, and all horizontal surfaces, including the cockpit sole, are teak-laid for fine footing. As with most center-cockpit boats, "blind" spots exists where there is little to hold on to while moving fore and aft, and we would insist upon jacklines being rigged at all times, not just when sailing offshore. We would make certain that any 55 we sailed extensively aboard had handrails on the aft-cabin top and coach-roof, as well as on the pilot-house or doghouse. We gather from the high reefing-setup scores that Oyster 55 owners are most satisfied with their Hood Stoway in-mast furling spars and Hood headsail-furling systems (both yankee and staysail). Dryness on deck averaged 8s, and watertightness below decks received 9s.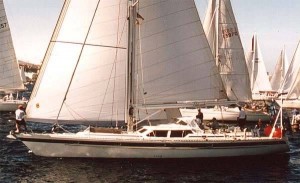 Surprisingly, the quality of sea berths was scored relatively low, averaging between 7 and 8. This is probably due to the double berth in the aft cabin, the semi-circular dinette in the raised saloon to starboard and, to port, sort of a loveseat that, on some configurations, has a table in its midst that pre-empts its use as a watch berth. There is every evidence that the designers believed they could incorporate such a dockside living area (a forego traditional straight settees) because of the sea berths that exist below. True upper &!amp; lower sea berths exist to starboard, just forward of the dinette, and to port just aft of the companionway, and these are rigged with net lee cloths, and these should be more than adequate for a large crew on passage. The galley as a seagoing tool rated high with an average of score of 8, which we feel is a mite conservative. No respondents had mounted a wind vane on his 55, but all report that the design are most compatible with an autopilot. Performance under autopilot gained an average score of 9.

Performance ratings

The 55's Sail Area/Displacement (SA/D) ratio of 19.5 tells us that this boat will be a sporting proposition when raced offshore, and its record, alluded to at the beginning of this review, bears this out. We like to use Bob Perry's rule that people who like to sail in 20 knots apparent without shortening sail should do so on a boat with a SA/D of 18.5 or less. The average voyaging boat today has a SA/D of between 15 and 17. The Oyster 55 is more typical of that for a moderate ocean racer. By comparison, the Tayana 55, the 48,000-lb. displacement of which is close to that of the Oyster (51,000 lbs.) has an SA/D of 16.6. The Oyster 55 has a tall rig and a large sail area (1,672 sq. ft. with 150 percent headsail), but with the cutter rig, roller-furling headsail and in-mast mainsail reefing, all this canvas is easily managed.

One Oyster 55 sailor wrote: " In 25 knots, gusting to 35 knots we reefed down to a sensible sail area for a long beat, rolling in the mainsail to the top spreader and the yankee to the second reef, leaving the full staysail up . . . and she tramped along to windward at 8.5 knots, very light on the helm, and just burying the rail in the hardest gusts. She tacked through 90, the powered winches making light work of the sheets."

This high SA/D suggests that the Oyster 55 excels in light air. After all, the relationship between wetted surface and sail area is what determines a boat's light-air performance. Yet the light-air ratings in our survey are inexplicably low, with an average score of 7. We find this low score hard to believe, and can only surmise that the working (in-mast and roller-furling) sails are being used to the exclusion of light-air downwind sails. On the other hand, scores for performance in moderate breezes, strong winds and storms were high, averaging between 9 and 10. This is where we would have expected the light-air ratings to be, but in a random sample, you never, ever really know what you're going to come up with. One survey respondent wrote: "She likes 12-plus knots, and reaches well." Upwind scores averaged 7 and downwind ratings averaged 9, which is consistent with the 55's reputation as a fine trade wind boat. But we would expect this boat, with its elongated fin keel (or especially with the optional high-performance bulb or Scheel keel), skeg-hung rudder and canoe underbody to be quite weatherly, and her racing performances bear this out.

Under power (an 82-horsepower Perkins with a three-bladed feathering Max Prop is typical among our readership), the 55 received an average score of 8.5 for forward, 8 for reverse and 8 for docking. Considering the 55's modified fin keel and skeg-hung rudder, these scores do not surprise us.

Accommodation

While the quality of the Oyster 55's sea berths was questioned, we don't really see this as a problem. The upper &!amp; lower berths, rigged with lee cloths, are more than adequate, although we fear that the motion in the forward sea berths will be severe in some conditions.

The after sea berths will be most comfortable, but the aft cabin double berth can be used in moderate trade wind running, and should be fitted with weather cloths down each side and down the middle for reaching and upwind sailing. When things get really bouncy, however, the crew will be fighting over the narrow singles in the quarter cabin.

All galley categories scored high (8s and 9s), and the saloon table was deemed by most a perfect 10. Fiddles exist on almost every flat surface belowdeck on the boats. The saloon table, which is large and given a high finish, will benefit from a non-skid, rubberized table cloth while at sea, to keep chowder bowls from skating into your lap. On large saloon tables, like this, it is also helpful, when going to sea, to rig a "condiment box" for salt, pepper, napkins and so forth in the middle of the table with lengths of shock chord.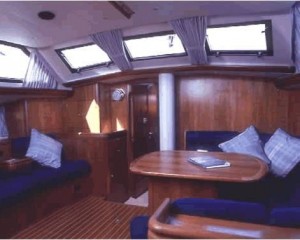 The galley design is superb for an offshore boat. Two steps down from the saloon and a quick dogleg to starboard puts you in a narrow, seaway-friendly aisle between the four-burner gas range and refrigerator/freezer and mega counter space outboard and, inboard, double sinks and capacious stowage over and under. Food lockers abound in the galley, which is reflected by the high scores for galley storage (an average 8.5) and food &!amp; equipment storage (9). Overall galley efficiency received an average score of 9. The cook will be contained on either tack, and tall, substantial, soft-edged fiddles surround every horizontal galley surface to keep the fruits of his labors intact.

On the other side of the companionway, to port, is the nav-station, which scored between 9 and 10. Respondents loved the chart table because of its large size and horizontal slots into which the edges of full-sized charts could be slipped to enable one to work with a particular set of coordinates.

Cabinetry and joinerwork below rated perfect 10s, and the Oyster 55-footer's teak joinery and teak and holly cabin sole deserve the rating. Locker drawers and drawer fronts are flush with the cabinets, and all edges are rounded to present kindly surfaces to a body thrown into them by a sea. Ventilation averaged 8s, which is understandable, considering the plethora of hatches and Dorade-style vents. Lighting received an average score between 9 and 10, due in part to the natural illumination provided by the raised saloon. Numerous strategically-positioned flush-mounted overhead lights. The well insulated engine compartment, which is under the center-cockpit, is spacious and has room for a generator.

Wet gear stowage rated only a 7, because there are no obvious places to shed oilies anywhere near the companionway. Sometimes heads can serve as wet lockers, but the two on the 55 are remote from the cockpit. Average score for the heads was between 9 and 10, and fine facilities they are, spacious, separate showers, and much cabinet and counter space. Scores for overall personal stowage space averaged 9s, while the survey respondents' score for "below-deck plan for living aboard" was an uncompromising 10.

Construction &!amp; rig

Survey respondents deemed the hull construction impeccable, giving it an average score of 10. All-important bulkheads and hull/deck joint rated perfect 10s. No surprises here, for Oyster Marine, Ltd. is a Lloyd's-approved facility. Chainplates also received 10s. The balsa-cored deck gained 9s, which speaks well for both the general construction and for the car with which deck gear had been installed. Rudder &!amp; shaft, deck layout, steering system (Whitlock Premier steering pedestal) and exterior trim all garnered 9s. Deck hardware and stringers &!amp; floors received average scores of 8, as did the keel/hull joint. Inexplicably, prop shaft, through-hull fittings, engine and exhaust and exterior stainless averaged scores of 7. This perceived mediocrity could be due to the age of the boats and respondents inheriting the problems of previous owners. A few Oyster 55s have been rigged as ketches.

Summary

These are gorgeous boats on deck and below with proven ability to ply the world's cruising routes efficiently. Because Oysters are finished off on a custom basis, every one you encounter will be filled with surprises, and you might find just the model that satisfies all of your blue water needs. Recent brokerage listings offer a pair of Oyster 55s at $742,500 apiece. Earlier models, the so-called 53/55s, have a going rate of $486,000. Sure, these are huge sums, but one can part with such great amounts of money in the knowledge that they are buying a product designed by blue water sailors and manufactured by some of the finest craftsmen in the world.

Oyster's founder and current chairman, Richard Matthews, won England's East Coast Offshore Championship about 27 years ago in a Hustler 25.5. He then commissioned Holman &!amp; Pye to design for him a 34-foot cruiser/racer for the next year's competition. This was Oyster's first offering, born of a man's passion for offshore sailing and a design firm's seagoing wisdom, and 150 of these were built. The beat goes on, and while the boats have gotten larger and more sumptuous, the builder's dedication to seakeeping designs, rugged offshore construction and all around performance remains uncompromised.

Oyster 55 specs:
LOA
56'3"
LWL
45'5"
Beam
15'9"
Draft
7'6"
HPB bulb
6'8"
Scheel keel
5'8"
Sail area (cutter)
1,672 sq. ft.
Displacement
51,000 lbs.
D/L
242
S/A
19.46
Tanks
Fuel
228 gals.
Water
204 gals.