See more articles
Regency 220 DL3 Pontoon Boat: Video Boat Review
Regency kicks up pontoon boat performance and comfort with the 2015 Regency 220.
The 2015 Regency 220 DL3 is not just another pontoon boat. In fact, it's a tri-toon that will knock your socks off. And this isn't necessarily what you'd expect; in the past Regency pontoons have been a value-leader, sure, but they weren't known for things like their performance. Yet the 220 DL3 is a rocket of a pontoon, with a top-end approaching 50 MPH. Want to learn more? Watch our video boat review.

Boat Test Notes
Specifications
Length
25'4"
Beam
8'6"
Draft (hull)
N/A
Deadrise
N/A
Displacement
3,270 lbs
Fuel capacity
35 gal.
Water capacity
13.5 gal.
Concept:

Create a pontoon boat that has eye-opening performance and maximum luxury, but costs 15 to 20 percent less than competing top-end pontoons.

Construction:

-Pontoons are constructed of 26-inch diameter 5052 aluminum alloy, and have lifting strakes and wave deflectors. -The deck is seven-ply marine plywood, supported by full-width Z-bar cross-members. -DL3 model has triple logs, so this pontoon is really a tri-toon. -Fiberglass components (such as the helm console) make this boat feel very solid and substantial. -The 220 DL3 comes with a 10-year, bow-to-stern warranty, plus a limited lifetime warranty on structural components—that's significantly better than industry standard warranties. -Rotomolded seat bases will last a lifetime.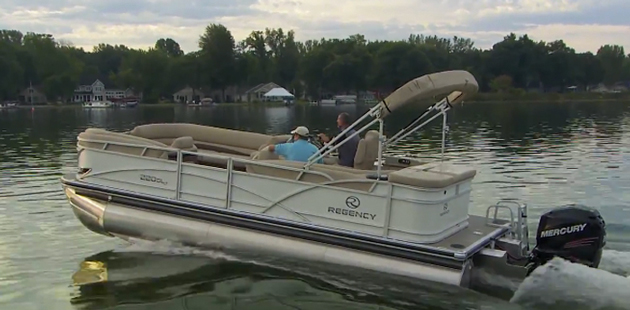 Performance:

-With maximum power (a 250 HP Mercury Verado) top end approaches 50 MPH. -Cruising speeds are in the mid to low 30s.

Handling:

-Triple tubes make a huge difference; the boat carves tight turns with no problem. -Don't expect V-hull performance; the boat does turn rather "flat," as opposed to banking. -The feel going through a chop is very solid, and you can tell it's built tough.

Unique Features:

-Price is the big thing to consider, here. With the standard 150 HP Mercury Four-Stroke, this tri-toon goes for under $40,000 out the door and turn-key ready. Many similarly outfitted competing boats cost $10,000 more. -Standard features list is strong, and includes perks like a ski pylon, wet bar, food prep area and stowage area. -Remember that warranty we mentioned earlier? That's three times the length of your average pontoon boat warranty and at least twice the length of what's considered "strong" in the industry See Regency 220 pontoon boat listings. Visit Regency Boats.