See more articles
Fish, Fly, Fun on the 370 Outrage
Boston Whaler celebrates its 50th year with the biggest, most Outrage-ous model yet.
As teenagers growing up in New England in the '70s, my cousins and I learned that the name Boston Whaler stood for a fast open boat with a unique tri-hull shape that planed easily and served us well for water skiing, fishing, and getting from place to place in a hurry. We learned to manoeuvre the single-engine 16-footer alongside moored boats and into the dock, and when crossing open water, we learned to throttle back and take our time if the waves were large, because the hull had a habit of catching a fair amount of air and landing hard. Despite the rough ride, our parents knew the boats had a good safety record and had unsinkable hulls, so they gave us a long leash. In turn, the Whaler gave us a good sea-going education.





Fast forward through 35 years of boating adventures, usually on sailboats, and I find myself in New Smyrna Beach, Florida, driving a Boston Whaler I couldn't have imagined as a kid. It is more than twice as long, has three times as many outboard engines on the back, and is cruising easily at 35 mph, nearly oblivious to five-foot waves. I may have slowed down a step or two over the years, but even before I climb aboard, I can tell that Boston Whaler has picked up the pace, if anything.



Whaler turned 50 a couple years ago, and they didn't do it by refining the tri-hull design. Their new 370 Outrage is now the company flagship, and the fifth boat in a successful new line of center-console designs that have appealed not only to a new generation in North America but in Europe as well. Beginning with the 320, five years ago, a line of 20- and 30-footers have been produced with an aggressive styling but the same versatility that Whalers have always had. These boats can fish, fly, and still provide a platform for all sorts of fun.





It might be worth pointing out that Boston Whalers are no longer built anywhere near the capital of Massachusetts. The factory is in Edgewater, Florida, a coastal town an hour east of Orlando, but that's not all that's changed over the years; I asked Ron Berman, vice-president of product development and engineering, about the process of bringing the 370 to market and he told me they did their first research two years ago on a couple trips to Italy, where boats like the 320 Outrage have become quite popular. They also tapped a "dealer design team" of a dozen North American dealers and solicited opinions from international dealers on the full-scale deck and interior mock-up they'd finished by the winter of 2008. They also met with owners of large center consoles who were serious anglers to learn about usage and storage needs.



The development cycle took nearly two years, leading to the final design and features for the biggest Boston Whaler model ever built. And as Ron told me, "This boat is still a prototype." Full production was scheduled to begin in July.

In addition to its unique sheerline, the 320 had already defined the basic parameters: good speed to get the adrenaline pumping or to get offshore reasonably fast, good fishing capability with built-in wells for fish and bait, a comfortable centre console area, a sun-and-lounge area forward, and enough room in the centre console to keep things dry and use the head. But Whaler's unibond (foam-filled) hull construction makes their molds extra costly, so it's worth it to spend more time on the research. When all was said and done, the new model came in at 37 feet, and lining up the 370 alongside the 320, there's little question that Boston Whaler has continued to redefine the centre-console genre. In fact, this centre-console boat isn't a boat at all; it deserves to be called a yacht.

The company hosted several boating media types last spring, and I had a chance to ride in the 370 as well as the 345 Conquest, largest of a line of more traditional cruising Whalers.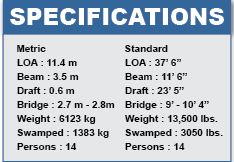 Our day on the water was long enough, as well, that I could experience the 370 both in moderate seas and some pretty good lumps. We didn't fish, but we hung out on the new boat both on the water and dockside, which allowed me to envision the boat in use by a cruising couple, a family day-tripping, or buddies going fishing.

We had different expectations of a Whaler back in the '70s – it was for speed and fun, not comfort. This boat is a completely different animal, offering all three, which I found out as soon as I went for a ride!

Next week: Go for a ride on the Outrage 370. (A version of this story first appeared in the September issue of YachtWorld.com magazine.)

Editor's Note: John Burnham is the editorial director of Boats.com and YachtWorld.com.