See more articles
Riva 63 Virtus: Day Cruising in a New Dimension
With an open deck layout, powerful engines, and an impeccable Italian pedigree, the Virtus is an eye-catcher.
Of all the boat brands in the world, Riva is one of the few regarded with awe, respect, even reverence. In its 160-plus-year history, the Italian yard has created some of the most elegant and beautiful designs on the water, each so lovely that passengers sometimes feel a sense of privilege sitting in the cockpit. I still remember my first ride on a brand-new Riva, which happened to be in Monaco on a perfect summer day. Talk about a pinch-me-because-I-can't believe-this-is-real moment.





In addition to looks, the brand is known for best-in-class engineering, construction, and craftsmanship. Because the Riva name is synonymous with sophistication, boat owners and builders perk up when there's news about a new model. So here's the news: The yard will soon launch the 63 Virtus, the flagship for its "open" series of smart and sexy cruisers.

The highlights of this Mediterranean-styled yacht are the big outdoor spaces at the bow and in the cockpit, designed for people who are drawn to boating for the sheer joy of feeling the wind, sun, and spray in their faces while traveling from port to port. There's a good deal of thrill to be experienced, too, as this yacht is powered by twin 1,360-hp MAN 12V engines that should deliver a top speed of 40 knots and a cranking cruise speed of 35 knots. At cruise, range is about 270 nautical miles.

The styling of the Virtus is reminiscent of the 63-foot Vertigo and the 52 Rivale, which is to say exotic and sporty. Like the Rivale, this new model will be offered with a hydraulically operated bimini top that deploys at the touch of a button. It will come in handy when the canapés and prosecco are passed around to guests seated on the three cockpit settees or at the helm station, where there's a seat for up to three people. (That's a nice feature for sociable captains who like company when they're at the wheel.) After a light lunch, guests can be taken ashore in the tender that's stored in a big garage under the sunpad at the stern.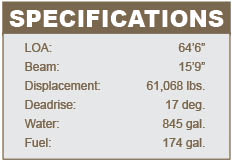 At 64'6", this is a very long open boat, and as such it takes day cruising to the next level. But don't overlook the cabin, where there are accommodations for at least six to spend the night. In addition to a master stateroom with en suite head, there's a VIP stateroom, also with en suite head, and a guest cabin. The saloon is fitted with a wood table that serves six. Like other Riva models produced in recent years, this one has an interior with large, arrow-shaped windows that draw in plenty of light.

Whether you're enjoying the view out these windows from a leather-covered settee inside, or simply admiring the way they complement the boat's strong lines while you're standing at the dock, you may have to lean over to the person beside you and ask for that pinch.
For more information, visit Riva Yachts.



Jeanne Craig has been covering powerboats since 1988. She spent ten years as a senior editor at Boating magazine and ten more as executive editor at Motor Boating. She's now an independent writer based in Rowayton, Connecticut, where she's close to the cruising grounds she most enjoys.