See more articles
Riviera 53: Space, and a Dose of Vitamin D
The Riviera 53 Enclosed Flybridge can be had with several power options, and all feature cockpit comfort.
Express cruisers that offer large aft cockpits, like Riviera's new 53 Enclosed Flybridge, are few and far-between. Most put more emphasis on expanding cabin space and as a result, the cockpit gets short shrift. That's why boaters who prefer more room for outdoor activities often find a sportfishing boat's cockpit attractive—but then they're stuck with all of those livewells and rodracks. What's a dedicated cruiser in search of a healthy dose of salty air and vitamin D to do? This Riviera holds the answer.





The large cockpit is where the 53's similarity to a fishing machine ends. Look to the transom, for one example. Where fishers have a livewell and/or a kill box, the 53 has a centered cookout station with a built-in grill, stowage compartments, and a sink. Next, check out the inwales. Instead of rod and gaff racks, you'll find lots of hatches that enclose stowage compartments. And the mezzanine, which is popular with sportfishers for watching baits while trolling, becomes lounge seating with a refrigerator underneath.

One more unique feature you'll discover in the cockpit is its deck. Unlike most boats of this design, the entire cockpit deck is hinged, and it swings up on an actuator to provide engine access. Wait a sec—the engines are under the cockpit? You bet. The 53 we checked out had a set of triple 435-hp Volvo IPS drives, which provide a cruise in the upper 20s and a top-end of around 34 mph. You can also choose twin 900s or a pair of 1,015-hp Cummins C-18's, but the pod drives can be mounted farther aft than standard inboard engines. Room that would normally be dedicated to the iron horses, shafts, and mechanicals is now opened up for other uses --  in this case, it can be turned into a single-berth crew's quarters with its own head.

Another place Riviera creates space is on the enclosed flybridge. You can see from the boat's profile that it's an expanded bridge, but trot up the saloon staircase and you'll discover what looks like a second saloon. There's a port-side helm and passenger's seat forward, with a full-sized C-shaped settee behind it. On the starboard side there's a full-blown wet bar with a sink, stowage, and under-counter refrigerator drawers. One downside: this layout makes visibility a bit tough for the captain. You can barely see the bowrail (and none of the bow itself) from the helm chair, and looking aft through the saloon, visibility is restricted even more. Riviera does offer an optional aft steering station which you'll probably want, especially if you regularly back this boat into a slip.



Following the roomier-is-better theme, Rivera designed in a full-beam master stateroom amidships. With a 16'10" beam there's plenty of space to work with, and the master has a vanity with mirror, a small settee, a walk-in closet, and a private head with shower. Your guests can move into the forward stateroom, which features an island queen berth, and the kids get relegated to a pair of over-unders in a third stateroom.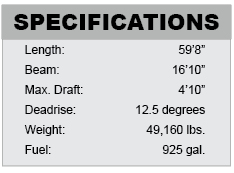 One aspect found throughout the cabins which cruisers will find appealing is the use of natural lighting. The flybridge has a huge overhead skylight, the master stateroom and saloon have large side windows, and the top of the companionway is left open so sunlight can stream into the lower cabins. That means that no matter where you are on this boat—in a cabin or enjoying that wide-open cockpit—you'll get your much-needed dose of vitamin D.

Comparison shoppers will want to see the Ocean Yachts 57 Odyssey and the Maritimo A53 Aegean Flybridge.

For more information, visit Riviera.

- Lenny Rudow