See more articles
Sailfish 241 Center Console Boat Review
This center console fishing machine combines the best of old tech with the best of new tech to deliver a seriously slick angling platform.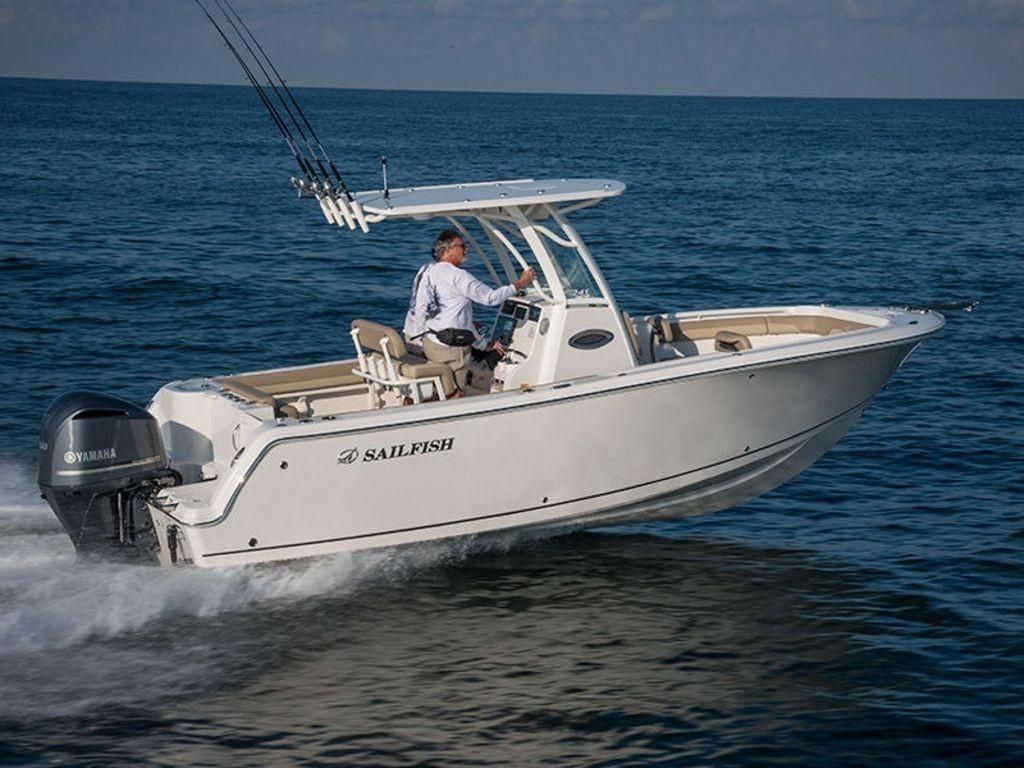 Sailfish 241 CC Fishing boat. Image credit: Sailfish

Different boatbuilders choose to employ different hull shapes and designs because each has its own particular strengths, but one which regularly delivers a better ride than average is the multi-degree deadrise bottom you'll find on Sailfish boats.

Notice that we say "multi-degree," not variable-degree, which is the term commonly applied to hull designs that transition from a sharper deadrise at the bow to a more moderate deadrise at the stern. It's also the term you'll see used in some of Salifish's marketing material, but we don't want anyone to get confused — Sailfish hulls take a different tact than the norm. Yes, they are variable-degree in the sense that the entry is 48- to 58-degrees and the transom deadrise at the keel is 24-degrees. But the sharp 24-degree deadrise at the very bottom of the hull transitions about a third of the way from the keel to the chines, to a 23-degree angle. Then another third of the way up it transitions again, this time to 22 degrees, and where the bottom meets the hullsides it's capped off by a reverse chine. This is a relatively old design (though Sailfish has naturally tweaked it through the years) and there are a handful of other builders that employ something similar, but it's surprising that more don't because the net result is an absolutely fantastic wave-splitting ability yet the boat also enjoys better stability than the norm for a 24-degree deep-V.

There is, of course, only one way to really wrap your head around the net effect: you have to sea trial one of their boats. And when you do so on a 241 CC you'll discover that the boat also gets a nice dose of modern tech to go along with that tried-and-true hull bottom. The helm layout is a perfect example. More and more anglers these days have transition to the use of multiple networked MFDs, and Sailfish designs this console to accommodate a top-level switch panel, engine monitor, and accessory space above an electronics flat that can fit flush-mounted 12-inch displays. That's a whole lot of LCD territory, for a 24-footer. In a nod to the universal use of cell phones in the modern age, they also include a spot to strap in your phone right next to the wheel where you can always see the screen and it remains easily accessible with a USB charging port nearby.

Fishing on the Sailfish 241 CC

Even in the fishing features, you'll note modern touches. The 25-gallon transom livewell is oval, lighted, colored baby-blue inside to keep your baits calm, and has a clear lid so you can keep an eye on their health. You'll find flush-mount rodholders in the transom, as well as in the gunwales. Lighting, including the livewell and underwater lights, are LEDs.

More on the fishing front: the 241 CC features a couple of touches that hard-core anglers will appreciate. The raw water washdown spigot, for example, is located in the motor well so you can drop the hose back there and it's always readily accessible but never underfoot. A pair of knife/pliers holders overhangs the motor well, so fish blood doesn't drip onto the deck after you use your knives. And the 30-gallon insulated fishboxes under the bow seats drain directly overboard, so you'll never have to fight with failing macerator pumps or poor drainage systems.

Speaking of the bow, if you pull all those seat cushions off and leave the drop-in backrests and cocktail table at home in the garage, you'll have an elevated casting deck. Extra bow rodholders are an option, and the cleats and running lights are pull-ups so they sit flush rather than create snagging points for your fishing lines. There's also a bulk stowage compartment belowdecks up forward, and a 27-quart cooler built into the forward console seat. Note that the hatches for all of these compartments rise up on gas-assist struts, making life that much easier every time you reach for a drink or slide another fish into the ice.

Sailfish 241 CC Performance

What about performance? Again, modern is a good word to use to describe it. With a single 4.2L V-6 Yamaha F250 on the transom, the 241 CC cruises at 30 mph and has a top-end in the mid 40s. Those are solid numbers. But the eye-opener comes when you consider efficiency. At cruise, fuel burn is around 11.5 gph. That makes for 2.6 mpg, which is more than respectable. And if you want to pack more punch it's not a problem, because the boat's rated to take 300 horses. That'll have you bumping up against the 50-mph mark and cruising in the low to mid 30s.

Part of the story behind the boat's above-par performance and efficiency lays in that hull design, which tends to squeeze a bit more mph out of every rpm. But more intel that explains it can also be found in the boat's construction. Sailfish incorporates carbon fiber and Kevlar in the laminate, along with a foam-filled fiberglass stringer grid. The boat tips the scales at 5,000 pounds, which is on the lighter side of most in the class. Those reverse chines we mentioned earlier boost lift, further increasing efficiency.

Sailfish 214 CC Upgrades And Options

While the 214 CC is ready to fish right out of the box, there are a few optional items available on this boat that are well worth considering. First and foremost is the leaning post. The stock arrangement has a pipework frame with room for a cooler underneath. That's sufficient. A whole lot better, many people would argue, is the LP12 "Billfish" seat, which gets you a pair of flip-up bolster seats with arm rests sitting atop a fiberglass base with an integrated tackle station. It has three large drawers and a pair of slide-out tackleboxes, which will eliminate the need to drag a heavy tacklebox onto and off of the boat every trip. Another is the console top organizer, which gets you a handy stowage compartment built into the top of the console for even more fishing gear. And family anglers will want to consider getting the console compartment rigged out with a head, adding the retractable ski-tow bar, and maybe even opting for the T-top mister system to keep things cool on those sweltering hot afternoons.

The bottom line? Whether you're a die-hard angler or a family fisherman, if you think there's going to be a 24-foot center console in your future the Sailfish 241 CC is one you'll want to check out. Whatever you do, make sure you take one for a sea trial and experience the way that unusual hull design attacks the waves for yourself, before you sign on any dotted lines.

Alternative Sailfish Boats

The Key West 239 FS is a very popular center console in the same class, which provides similar performance with 250 horses. Cockpit design is a notable difference between these boats, as the Key West incorporates aft seats with a livewell and stowage underneath as opposed to the Sailfish's fold-away transom seating.

Another boat of interest might be the Contender 24 Sport,
https://www.boats.com/reviews/contender-24-sport-get-game/
which has a bit more fuel capacity and larger fishboxes, a bit less deadrise (22.5-degrees), and aft jump seats molded in at the transom. And those interested in a less fishy design that has a bit more glitz and glam might want to take a look at the Chris Craft Catalina 23, a model that offers fit and finish to die for along with a couple of rodholders in the gunwales.

View Sailfish 241 CC listings.

Sailfish 241 CC Specifications:

LOA – 24'0"
Beam – 8'6"
Draft – 1'6"
Displacement – 5,000 lbs.
Transom Deadrise – 24/23/22 degrees
Fuel Capacity – 108 gal