See more articles
Scarab 215 HO Impulse: First Look Video
The Scarab 215 HO Impulse combines raw power with clever features to make the perfect small watersports boat.
Sometimes simple is better. Take the Scarab jet boat lineup, for example. It's made up of just three model ranges: the 165, 195, and 215. The biggest of the lot, the 215, comes in three flavors: the base model, the high-output (HO) model, and the Impulse, which adds even more features. The Scarab 215 HO Impulse model caught our eye at the Southampton, UK Boat Show.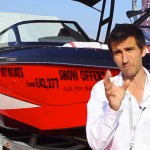 Inside we found a unique, modular seating setup with lots of stowage, a kicking sound system, and room for 10 people. Is it fast? Oh yes. Yes it is. With twin high-output engines, expect upwards of 60 knots out of this speed demon.