See more articles
Scarab 255 Jet Boat: Quick Video Tour
The new 2015 Scarab 255 is now the largest jet boat available from this builder.
Scarab is an old name with a new meaning, because today the name is playing a starring role in a modern jetboat revolution. (To find out more, read New Jet Boats: A Renaissance is Underway.) For 2015 they have a new model, the Scarab 255, powered by twin supercharged Rotax waterjets, which reviewer Brett Becker found at the Miami Boat Show. Take a peek at this brief video to see some of the highlights he discovered.


Since Sea-Doo abandoned the jet boat market, Rec Boat Holdings (Scarab's parent company) has jumped in with both feet. Last year they came out with the 195 HO Impulse to compete directly with boats like the popular Yamaha AR192. This past winter we spotted Scarabs far and wide—even in Southampton, England, where our UK reviewer Alex Smith filmed a First Look Video of the Scarab 215 HO Impulse. And if Brett's first impression of the 255 is any indication, we expect these boats to keep popping up far and wide.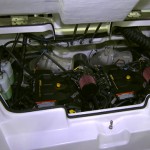 Since the 255 is Scarab's biggest boat, it is, of course, also the most expensive model they offer at the moment. MSRP is just over $62,000 (at the time of publication). We poked around some Scarab jetboat listings on boats.com, and found that where prices were listed it wasn't too tough to find them below MSRP—and that's before you make your best deal.

To learn more about the Scarab 255 you can visit Scarab, and keep checking back with us at boats.com; we'll soon be publishing a full review of the boat.