See more articles
Sea-Doo GTX S 155: Comfort Boost
Cushioned suspension is now available on a lower cost model.
PWC suspension systems may seem like a gimmick, but it's a gimmick that works wonders on the Sea-Doo GTX S 155. Head into rough waters and the suspension takes much of the jolt out of the ride as the entire platform—saddle, handlebars, and footwells—is sprung separately from the hull below. They're truly two individual components, linked by a twin-arm suspension fore and aft and a central spring and shock absorber that allows for 5.5" of vertical travel. The system's great for big-water enthusiasts, but also for passengers who would gladly forego the pounding that comes with crossing big wakes or large bodies of water.





So why hasn't PWC suspension gained widespread acceptance? It's pricey. Sea-Doo initially reserved the suspension concept for flagships in the $15,000 to $16,000 range. The $12,999 GTX S 155 is the company's first real attempt at bringing the technology to the masses.

The 'Doo has cut costs in two ways, both of which are apparent in the model designation. One is the telltale 155. By foregoing the supercharger/intercooler combo of premier models, Sea-Doo offers up a naturally aspirated powerplant that costs less to produce (as well as costing owners less to run), yet will still hit upwards of 56 mph on the top-end, and yank crewmembers out of the water on skis and boards. The other giveaway is the singular capital S. It denotes a manual suspension system that offers most of the benefits of the top-of-the-line system, but without the computer-enhanced price bump.

Unlike the flagship's suspension, the S model's suspension is set by hand. Lift the strut-assisted seat and you can dial in the stiffness with a simple ratchet. Experiment with what works best for your typical load and riding conditions, then set it and forget it. Yes, the higher-end version may be more adaptable on the fly, but most owners will likely venture out into similar waters with a similar load—so the end result is commonly the same.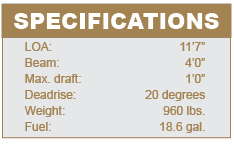 Summing up the GTX S 155 as a cheap suspension boat would be selling it short. It's also got plenty of Sea-Doo goodies, like the electronic braking system that allows you to slow forward motion with controlled application of the reverse/brake bucket (as well as operate more confidently around the dock); an electronic throttle that enables cruise control, no-wake modes, a fuel-saving ECO mode, and two separate acceleration profiles; and a comfortable touring-style seat and tilt handlebars. The S3 hull also confidently handles rough water, and yet carves a precision turn in the flats. Drawbacks? Storage is the only true shortcoming. At 16.4 gallons, it's notably less than most of the competition.

Whether suspension will finally catch on in the world of waterbikes, who's to say? It is, however, at least a little more attainable.

For more information, visit Sea-Doo.

—Jeff Hemmel