See more articles
Sea-Doo RXP-X 260: High Response
Lean in and hold on -- this is one wild ride.
Any Sea-Doo with the letters X and P in the name has got a lot to live up to. The company's first XP was an impressive boat for its time; the third-generation brought a lean-in handling style that was reminiscent of the renowned Yamaha WaveBlaster. The inclusion of the R in the name only indicated a deeper performance connection. Book-ending it with that final X showcased a boat that was almost ready to float right onto a professional race course.





The 2012 RXP-X 260 certainly looks like it's cut from the same cloth. Featuring the latest evolution of Sea-Doo's "flowing facet" design philosophy, it looks fast, muscular, and ready for action. It's on the water, however, where this craft really shows its worth.

And all it takes is one thrilling turn...

On A Dime...With Change

Tight, precision handling has always been an XP/RXP/RXP-X trademark, but the latest generation of the craft has arguably taken things to a completely new level. Dive this boat into a corner and it lays over like the aforementioned WaveBlaster or third-generation XP. I came into a buoy at full throttle, chopped the speed for just a fraction of a second to drop the nose, then laid the boat over and powered through a complete 180 without hiccup, sending up a wall of spray before charging out in the opposite direction at almost equal speed. In the past such an aggressive, high-speed turn would have seriously tested the upper body strength of the pilot at the controls. Sea-Doo has addressed that issue by transferring the strain off the arms...and to the legs.

Yup, Sea-Doo has reinvented something as simple as the seat. Rather than being overly wide and straight, like most models, the RXP-X's saddle is shaped more like an hourglass, with an exceptionally slender midsection that positions the driver more forward on the craft. Sitting above those mid-saddle contours are padded bolsters that extend out and over the driver's thighs to provide the locked-in feel of a street bike. Slide into position, squeeze your legs in and up against the bolsters, and you're now keeping yourself in position with some of the strongest muscles your body has at its disposal.
Canted footwell rests, positioned midway along the footwells, help drive those knees into position, while Sea-Doo's existing Adjustable Ergonomic Steering (A.E.S.) system allows fine-tuning of the position through handlegrip tilt and bar width.

Most PWCs turn relatively flat, forcing the driver to counteract the g-forces with a solidly placed foot in the outside footwell and some serious upper body exertion. With its pronounced inside lean and locked-in saddle, the RXP-X feels far more intuitive, far less tiring, and well, far more fun. These are arguably the quickest turns I've ever produced on a stock PWC. Sea-Doo dubs the three-components the "Ergolock" system. I call it a sensible solution that will likely have people asking what took so long.



Fit...To A "T"

Of course, it's the hull below that allows so much of this handling prowess. Sea-Doo has rethought that as well, developing a T-shaped cross-section (when viewed from the stern) featuring a center running pad that is dropped several inches below the primary hull surface. It allows the craft to run on a reduced surface when at speed, softens up chop, and as you might expect, enhances the boat's turning ability. Taking things yet one more step are soft, rounded chines, which allow the hull to easily roll and transition into a turn, and help keep the hull sucked into position throughout the following arc.

Hull sponsons are aggressive, and feature three user-adjustable settings to tailor the handling response. Unique are 90-degree winglets near the trailing edge; they further help in turn initiation, prevent chine walk through a corner, and provide the missing grip that occurs when a normal sponson is rotated out of position with the hull leaned this far over.

Yet more hull features are at play. Trim tabs have been added at the stern to provide lateral stability, keep the bow down in rougher conditions, and allow the hull to achieve its best top speed. Spanning the bow's width are two sets of chines, designed to reduce spray but also prevent the bow from diving during deceleration and braking. High-performance variable trim alters the hull angle further yet. It allows you to program pre-set positions, so that you can keep the bow down for acceleration and then quickly trim up for maximum top speed. A double-tap of the button activates the trim, which lets you wisely keep your eyes on the water.

Proven Power

Sea-Doo obviously thought enough of the various handling improvements that they left the engine alone. It's the same 1,494-cc Rotax with supercharger and intercooler that powered the boat's predecessor. In relatively good conditions, I recorded a top speed of 67.1 mph and a 0-30 mph acceleration time of about two seconds. Power delivery can be fine-tuned via electronic throttle. Sea-Doo offers a gentler touring mode, which softens the boat's acceleration, and the more aggressive sport mode, which taps the engine's full potential.

Changing between Touring and Sport mode is now easier than before, with buttons mounted on the left handlebar, meaning those with a need for speed won't have to wait too long after starting the engine. Also available is ECO mode, which adjusts power delivery for the most fuel-efficient result.
While the RXP-X is undoubtedly a high-performance craft, it's got Sea-Doo's well-publicized Intelligent Brake and Reverse (iBR). A modified reverse bucket can be lowered to provide stopping power via a portside handlebar lever. Computer control keeps the response in check to make sure no one flies over the handlebars. That same bucket drops at the start to allow the boat to mimic neutral at the dock, before being "shifted" into forward or reverse. It's an intuitive solution that keeps your eyes on the water and offers a level of control that nearly any driver will appreciate.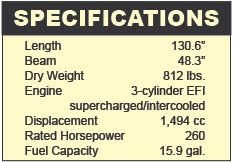 Final Thoughts

While I found the boat ridiculously fun to ride, I'll acknowledge a few tradeoffs. One is that seat itself. By necessity, it's sized for the average range of enthusiasts. That means tall riders may find their legs bent a little farther than they'd like as their foot is pushed farther back in the tray. Along those same lines, shorter riders may find they fail to completely reach the upper pads. I don't think either situation is enough of a worry given the boat's incredible performance, but it's likely to be noted by those at extreme ends of the spectrum.

The unique T-shaped hull, with its rounded chines, can also list to one side as you decelerate. It can do the same thing should you accelerate gently while entering into a wide turn. In my testing, neither situation ever took the craft to the point of instability. Given the typical target audience, I'm guessing those little quirks will be forgotten once the first turn has been cranked.

In short, the RXP-X lives up its legacy, and then some. It's fast, confident, and carves a turn like few other watercraft. Like the WaveBlaster or XP of old, it's a boat that I look forward to riding again...and again.

For more information, visit Sea-Doo.



Jeff Hemmel writes for Boating, PersonalWatercraft.com, and Powersports Business. The former Senior Editor at Watercraft World, Jeff is a multi-time award winner as well as a 2008 inductee into the IJSBA Hall of Fame. His first book, The Anti-Pirate Potato Cannon...and 101 Other Things For Young Mariners To Try, Do, & Build On the Water, recently received a bronze medal in the 2010 Moonbeam Children's Book Awards. For more info, visit Jeff Hemmel's website.