See more articles
Sea-Doo RXT-X and RXP-X PWC reviews
Sea-Doo puts priority on zero to 30 with new models for 2008.


Personal watercraft keep getting more powerful, but they are not going much faster. Witness the new 255-hp RXT-X and RXP-X models from Sea-Doo, which offer a claimed extra 40-hp over last year's models, but still top out at about 65 mph. Blame the United States Coast Guard, which a few years ago let it be known that in its professional opinion nobody should be going faster than about 65 mph on an 11-foot-long powerboat. With the threat of regulation hanging over its collective head, the PWC builders have reined in top speed and instead are focused on a different aspect of performance - acceleration. Because if all the watercraft go the same top speed, the one that gets to max velocity first wins the race across the lake. The new benchmark is a 0-to-30 mph under two seconds. From my personal experience, acceleration is the thrill that never gets boring. And right now there's nothing quicker on the water than a high-performance watercraft.

The X Factor



Sea-Doo plants itself back atop the personal watercraft horsepower monkey pile in 2008 with 255-hp, hyper-sport RXP-X runabout and three-passenger RXT-X (www.sea-doo.com). Each also gets a full dose of boy-racer hardware that makes these machines the closest thing to a full-bore racer to ever come off an assembly line. The fact that the new engine is rated five horsepower more than the 250-hp Kawasaki Jet Ski Ultra 250X (www.kawasaki.com) is no accident. Sea-Doo wants to reclaim its bragging rights.

A larger supercharger is used to squeeze 40 extra horsepower out of the 1494cc triple-cylinder Rotax Marine engine that previously had a top rating of 215 horsepower. This is a very flexible engine, which has been de-tuned down to 130 horsepower for the entry-level GTi models. Like the 215-hp version, the new 255 Rotax uses an air-to-water intercooler to lower the temperature of the intake air after it has been compressed by the supercharger. Larger fuel injectors and a remapped ignition keep pace with the increased boost pressure. If you ride in salt water, the fact that this engine has a closed cooling system (it pumps an antifreeze solution through the engine, rather than available lake- or sea-water) is another selling point-it will help minimize corrosion issues.



Both the RXP-X ($12,999) and the RXT-X ($13,299) are rigged with a wide, race-style aluminum handlebar mounted on a riser that combine to give the rider more steering leverage and a better riding position when standing. A new billet-aluminum finger throttle pulls a cable routed through a braided stainless steel housing. Both models also feature a new VTS (Variable Trim System) electric nozzle trim that can be pre-set to the rider's specified upper and lower positions - down for extra hole-shot acceleration and up for best top speed. Two pokes of the VTS rocker switch on the left handlebar while underway automatically changes the trim, so the rider can keep his eyes on the water ahead rather than on the trim gauge.



Sea-Doo says it has tuned the engine and pump of both new X models for acceleration, but another key factory is boat weight. The Sea-Doo RXT-X has a claimed dry weight of 818 pounds, 99 pounds less than the claimed dry weight of the Jet Ski Ultra 250X and 23 pounds less than the new Yamaha FX SHO (www.yamaha-motor.com). I'd like to weigh production versions of each of these models on my own scale, but if these numbers hold up, Sea-Doo has a clear advantage simply because it has less mass to move off the line.

Wake Up

Sea-Doo amps up its towing-specific Wake models for 2008 with a new ballast system that's a first for a production PWC. Long in use on wakeboarding powerboats, a water ballast system is intended to press the boat hull deeper into the water so it makes a larger wake, all the better to launch wakeboard tricks. The Sea-Doo ballast system is comprised of two plastic tanks that mount over the aft boarding platform and extend into each footwell. The tanks hold about 25 gallons of water and when filled add about 200 pounds of ballast to the watercraft. The tanks are filled in about three minutes by water lines connected to the boat's jet pump. Drain plugs empty the tanks after a ride, and they can be removed from the boat without tools in about 30 seconds. The tops of the tanks have a non-skid surface for sure footing.

The Wake models are also equipped with the new VTS trim system, which in this application can be used to further refine wake shape and help keep the bow down when the ballast tanks are full. A retractable towing pylon with spotter grab-handles, a fold-board reboarding step, a board rack, and wide-angle mirrors are also part of the Wake package. The Wake is offered with a fuel-injected 155-hp engine ($11,499) or with the 215-hp supercharged engine ($12,799).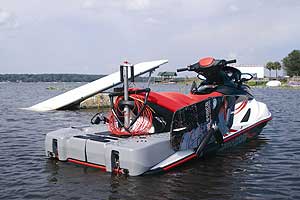 Gray plastic ballast tanks fits over the aft platform of Sea-Doo wake models. When filled with 200 pounds of water, they help increase wake size for enhanced wakeboard action. Board rack and towing pylon are also standard Wake features.