See more articles
Sea Ray 21 Jet: Bowrider of the Future
Sea Ray pulled back from the jet boat market years ago, but is re-entering it this year with their new 21 Jet.
Editor's Note: In September of 2013, Sea Ray announced that they would not be putting either of their new jet boat models, the 21 Jet and the 24 Jet, into production. Read Sea Ray Reverses Decision to Enter Jet Boat Market

It's been the source of rumor and speculation for some time, but Sea-Ray's long-awaited 21' jet boat has finally become reality. Why dive into the jet-boat market? For starters, Sea Ray clearly thinks it has something to offer. The company notes the 21 is not just a jet boat, but a "true" boat, sharing much of the same design, engineering, and quality shared by the rest of its lineup.

Unspoken? Perhaps the fact that Yamaha is currently dominating the 21' and 24' segments with — you guessed it — jet boats like the Yamaha 242. Apparently consumers are now looking at jet drives the very way the technology's proponents long hoped they would — as just another style of propulsion. And the company's timing certainly couldn't have been better. Recently Sea-Doo pulled out of the jet-drive boat market, leaving Yamaha as the only other true major player.





For a brand with a longtime allegiance to MerCruiser sterndrives, initial focus will undoubtedly be on the jet-drive engine, something Sea Ray hasn't toyed with since the Sea Rayder in the early '90s. Unlike that early boat, which was one of many small, playful jets that flooded the market for a brief time, the 21 Jet boasts 240 hp from its twin Weber Motor MPE-850 four-strokes, 120 hp turbocharged engines that further boost power through the addition of intercoolers. Despite the turbo/intercooler boost, Sea Ray claims the engines have lower-than-average fuel consumption, and notes the 21 will meet California's 4-Star, Super-ultra-low emissions standards. A Weber-exclusive reverse-gate design also prevents a jet's typical drifting at neutral. Naturally, practical advantages include a shallow draft, little bowrise, and no exposed drive unit.

Weber isn't a brand with instant name recognition in the United States, but they are a global manufacturer that has been around since 1969. Sea Ray reps note that Weber has been providing engines and jet propulsion for the marine industry for over a decade. (Polaris used the engines in their former PWC line; several jet-powered yacht tender companies currently use Weber). The brand has also provided engines and engine components to the likes of Mercedes Benz, BMW, Volkswagen, Ferrari and Ford.

Atypical engine aside, the 21 certainly looks like a Sea Ray. Sporting a 21' 6" LOA and 8' 6" beam, the 21 shares Sea Ray's familiar profile, especially in its sloping bondline and deck shape. It differs somewhat dramatically, however, in the bow. Rather than narrow to a point, the Jet features a squared-off shape. The decision broadens the size of the bow cockpit, resulting in more passenger room, and gives the boat its own unique personality. Benches wrap the perimeter; an optional filler cushion turns the area into one big sunpad. A generous top-hatch locker accommodates an anchor. That compartment, as well as gel-coated under-seat stowage, is molded as part of the fiberglass floor and liner system.



The main cockpit is sheltered by a wraparound windshield of tempered, tinted glass. Seating is arrayed in somewhat conventional fashion, with a U-shaped bench beginning directly behind the helm seat and culminating at the port side in a convertible lounger that faces forward when underway, or can pivot flat for relaxing. The port console includes a standard-issue Sony CD/Stereo with MP3 port and 12V outlet. You can stow a wakeboard in the expanse within, as well as boards, skis, and other toys in the in-floor ski locker. The latter's lid is gas-assisted to improve ease of use, and the interior is lined with a rubber mat to keep those toys from getting dinged.

Aft, a center walk-thru allows access to the swim platform "entertainment zone." It's essentially a two-tiered platform that includes padded backrests for aft-facing seats, a great spot to relax while swimming when anchored or to gear up for skiing, wakeboarding or tubing. A ski tow eye is standard, and an optional stereo remote and speakers can add to the party atmosphere.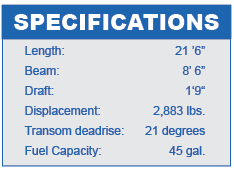 While the dash sports the plastic look often common to jets, Sea Ray hasn't scrimped elsewhere. The boat comes in a choice of five two-tone gelcoat color options, as well as optional black hull and upgraded graphic package. Welcome touches include stainless hardware and gauge bezels at the helm, lighted chrome toggle switches, and glass lenses on the custom backlit gauges. You'll also find a padded tilt wheel with leather-like finish, and a single, rather than dual-lever control. On a jet, the latter is typically more convenient to control dual engines.

Put all these factors together and it becomes pretty clear that the 21 Jet isn't just another conventional bowrider. Of course, few jets boats would be termed "conventional". But that could change in the future - especially if the Sea Ray 21 Jet is a sign of things to come.

For more information, contact Sea Ray Boats.