See more articles
Sea Ray 230 SLX: Wakeboarding Bowrider Wow
Sea Ray takes an unusual approach to turn this bow rider into a bona fide wakeboarding boat.
Wake-oriented sports are king, so bowrider manufacturers are scrambling to find ways to compete with inboard and V-drive towboats. The solution found by Sea Ray Boats on the 230 SLX is a clever option dubbed the Active Trim System. It consists of triangular trim tabs hinged at the keel that tuck into pockets along the hull when cruising, which can be deployed to effectively lessen the hull's deadrise when boarding.





The tabs increase wake height and improve shape, without the added turbulence that might be associated with conventional rectangular tabs. Controlled by Lenco Marine's Auto Glide Boat Control System, they can also be used to improve the boat's everyday ride and acceleration, dramatically reduce bowrise, and keep the boat at an optimal trim and list angle as speed and conditions change. Minimum planing speed is reduced, and it's easier to maintain speed in aggressive turns as the boat turns flatter.

Even without Active Trim, the SLX is an appealing candidate in the upscale 23' range. This is the first Sea Ray to incorporate a full complement of Quiet Ride features, the interior finish is sophisticated, and layout is comfortable yet practical. An L-shaped lounge compliments twin captains chairs and a familiar bow cockpit.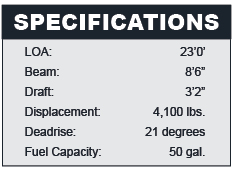 The watersports crew, as well as those who simply like a place to lounge and face the swim platform on the hook, will find a dual-purpose aft sunpad which can be easily converted into an aft-facing bench.

A standard 260hp MerCruiser 5.0 MPI Bravo Three package pushes the boat to a top speed just shy of 50 mph. Pony up for Active Trim and you'll exploit those horses to their max.

For more information, visit Sea Ray Boats.

-Jeff Hemmel

Connect with Jeff on Google+