See more articles
Sea Ray 270: Used Boat Review
What's the best boat for fishing along the south shore of Lake Ontario? According to one couple, it's their 1988 Sea Ray 270 Amberjack.
For Donna and George Sereno, nothing beats a day on the water. "Boating is our life," says George, a 57-year-old former contractor. "No road signs, no beaten paths. It's the closest thing there is to flying without leaving the ground."





And for the Rochester, N.Y., couple — she's a former school teacher turned marine artist — boating these days means heading out for some fishing on their Great Lakes home waters.

Their vessel? A 1988 Sea Ray 270 Amberjack, a twin-inboard overnighter with a local reputation as a no-nonsense angler's boat. The couple bought the Amberjack in 2001, after a lengthy search for that very Sea Ray. The price was $27,000, about half of what it cost new in 1988. "We had been looking for a freshwater Amberjack for three years," says Sereno. "Our love is salmon fishing on Lake Ontario, and we thought the Sea Ray would allow us to fish effectively and comfortably and have the flexibility to cruise."

He says the boat was immaculate. The overnight comforts are contained in the standup cabin, laid out with a galley, walk-in head with shower, and V-berth with storage. In fact, the cabin layout helped sell the boat. "The Amberjack has lots of storage, which comes in handy when you're carrying 14 fishing poles, four tackle boxes, safety equipment and heaven knows what," says Sereno.

Power comes from a pair of 5.7-liter MerCruiser gas V-8s coupled to Alpha stern-drives. Top speed is around 42 mph, and she cruises at 30 mph, running around 3,000 rpm. Fuel consumption is around 1.5 miles per gallon, says Sereno. They added standup canvas — "a great investment," he says — and a cabin heater, along with a Raymarine SportPilot II autopilot, Garmin 320 fishfinder and Standard Horizon170C plotter.

Sereno says the Sea Ray has proved itself again and again over the last six years. He calls it an "outstanding fishing platform." Equipped with rod holders and down-riggers, the boat fishes five or six people effectively and comfortably. And with its ample 10-foot beam, "she handles anything — within reason — that Lake Ontario can throw at us," he says.

The Serenos go after chinook and coho salmon, and steelhead, brown and lake trout. "In the spring, the fish are generally within a mile of shore," says Sereno. "As the water warms up, it is not unusual to travel 10 or 15 miles to get the big king [salmon] in the summer."



On one fishing trip, the Amberjack even stepped up to take on the job of a lifeboat. As Sereno relates it, the couple and a fishing partner were returning from a midweek outing, running in a 2-foot chop about two miles from their marina slip on Irondequoit Bay, when they spotted an overturned kayak. There was a paddle and some equipment floating nearby but no person in sight.

As Sereno called the Coast Guard, the others made a quick search and found the kayaker 100 yards off, bobbing in the water, barely afloat after four hours of treading water. (His life jacket was safely stowed under his deck, notes Sereno.) They helped the waterlogged paddler into the Amberjack, covered his shivering form with their best wool blanket, and awaited the Coast Guard. "The first thing he asked for was a Canadian beer," recalls Sereno.

Most trips are far less stressful and much more fun. Two years ago the Serenos were fishing alone when three rods released at the same time — each with a 25-pound king salmon on the business end. Landing one such line-stripping fish is an accomplishment, but the couple managed to bring in all three. Sereno calls it "one of our most memorable days."

"We love the Donna-Jean," he says. "But we're constantly being asked if we'd like to sell her, and I will when we no longer put 300 hours per year on her. My opinion? The Amberjack is the best fishing/cruising boat ever made."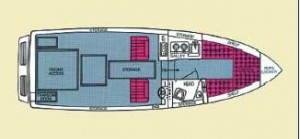 WALKTHROUGH
The Sea Ray 270 Amberjack is described as a "roomy express fisherman with an unusually large cockpit" and basic accommodations below in Ed McKnew's "Powerboat Guide". The deep-vee hull is built of solid fiberglass, and standard power comes from a pair of gas stern drives for a top speed of more than 34 mph.

There's a transom door and fold-down transom bench in the single-level cockpit. The helm station is to starboard, behind a swept-back aluminum-frame windscreen, and there's room for fore-and-aft companion seating. Designers put storage areas under the gunwales and in a bin between the seats. The standard swim platform (with ladder) and teak covering boards add versatility and looks.

The 270 Amberjack's modest cabin has the basic necessities: compact galley with refrigerator, hot water and counter space to port; walk-in head compartment with a standup shower to starboard; hanging locker; and forward V-berth with insert.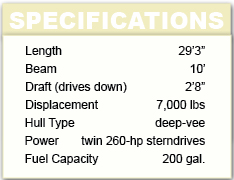 AVAILABILITY
The original 270 Amberjack can be readily found up and down the East Coast and in the Midwest. Prices are in the $12,000 to mid-$20,000 range for most. Here's a few examples. A 1986 model in "excellent condition" in Ohio was selling for $22,900, with 4.3-liter gas engines (600 hours), new canvas and a trailer. A 1987 Amberjack was listed at $17,000 in Florida, with dark canvas and striping, outriggers and a pair of 5.7-litergas engines (150 hours) for a top speed of around 40 mph. In Connecticut a 1988 model was selling for $24,900, also powered by 5.7-liter engines, with green canvas, tinted windscreen and teak platform. A recently repowered (4.3-liter engines) 1989 model in Maryland was listed at $23,500, with full canvas, dockside power, outriggers, washdown, and fishfinder and GPS.



Steve Knauth is a contributing writer for Soundings Magazine. This article originally appeared in the February 2008 issue.