See more articles
Sea Ray 350 SLX Video: Quick Tour
Here's a quick look at the 2015 Sea Ray 350 SLX, one big and bodacious bowrider.
The 2015 Sea Ray 350 SLX is a case study in new-age day-boats. Once upon a time bowirders over 26 feet were unheard of. Then they stretched to 30 feet. And with the 350 SLX, we're well into the mid-30s.

Does it really make sense to build day-boats this big? Before you make up your mind, take a glimpse at some of the highlights on the 350 SLX in this First Look Video.


As one might expect, this boat is loaded to the gills with goodies and doo-dads. You might expect to see the wet-bar with sink and refrigerator. You could have guessed there was a head compartment inside of the passenger's console. Of course, you already knew a 35' Sea Ray would be packed with comfy seats. But the self-propelled electric dinette table—on a bowrider? That one's a shocker.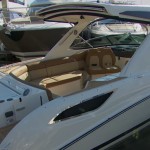 What's more, we didn't have the time to get into the finer details of the 350 SLX, and there's a lot more here to look at. The starboard side console can be turned into a full-blown cabin, with a berth, AC, and a TV. The options list includes a hydraulically-actuated swim platform. Cool blue LED accent lights are all over the place. And those who enjoy tubing will be happy to learn there's an onboard air-compressor.

If you want to learn more about the Sea Ray 350 SLX, check out our full review of the boat: Sea Ray 350 SLX: Day Boat Gone Wild.

And if you're ready to shop and want to know what the 350 SLX is going to cost you, take a look at these Sea Ray 350 SLX listings.

For more information, visit Sea Ray.