See more articles
Sea Ray 370 Venture: An Express Cruiser with Outboards Inside
This cruiser may look like it has stern drives, but a pair of Mercury Verado outboards lurk beneath the transom.
The Sea Ray 370 is one of the most distinctive new model boats we've seen in years, and it's a direct result of something many operators have come to believe lately: outboard engines rule, thanks to their reliability, low weight-to-horsepower ratio, low sound and vibration levels, and high efficiency.

Up until now, moving from smaller cuddy boats up into serious express cruisers meant running inboards or stern drives. No more.





Swing up one of the aft sunpads on the 370, and you'll find a 300-hp Verado humming quietly beneath a custom-designed cowl, created just for the Venture. This not only provides all of the aforementioned outboard advantages, but it also frees up one heck of a lot of engine room. And, just what did Sea Ray do with all of this new-found wiggle room? Walk down into the cabin, turn around, and behold the largest mid-cabin ever seen on a cruiser of this size. In fact, it's a mistake to even use the term "mid-cabin" because it's more like a master stateroom, with a queen berth and a full-sized settee.

Another place this arrangement creates room is in the cockpit. Since using the Verados shifted the boat's center of gravity, Sea Ray could locate the helm farther forward. That makes room for a pair of large loungers, a pair of convertible sunpads, a dinette table, and an exterior galley with a refrigerator, induction stove, sink, and an optional grill. Note: there's also a galley in the main cabin, so you don't have to call off the picnic when the weather doesn't cooperate.

One big question in the minds of many cruisers is bound to be performance—just how well do 600 super-charged four-stroke outboard horses work on a boat of this size and displacement? We hit a top-end of 38.2 MPH, but we were running a prototype which wasn't propped quite right (max RPM barely touched 5000, and this motor is rated to spin at between 5800 and 6400 at wide-open throttle). Sea Ray says they're sure the 370 will top out between 42 and 43 MPH, and that sounds correct to us.

More importantly, at a 31 MPH cruise, we burned 17 GPH per engine to get 1.3 MPG. Just how well does that stack up against those other power packages? Consider the Sea Ray Sundancer 370 outfitted with a pair of 375 HP Mercruiser 8.2 MAG engines and Bravo III outdrives; this rig gets about one MPG while cruising in the upper 20's, and tops out in the lower 40's. Or, stack the Verado performance up against another Sea Ray 370 Sundancer, this one powered with a pair of 310 HP MerCruiser 7.4L MPI engines with V-drive inboards; it gets around 0.8 miles to the gallon while cruising in the low 20's, and tops out around 30 MPH. In other words, the Verado power package beats either option for efficiency at cruise while providing a faster cruise, and either matches or beats top-end speeds.





That would seem to give a serious edge to the outboards. But wait a sec—stern drive and inboard boats often handle far better than outboards in close quarters, since they're spaced farther apart (and in the case of inboards, have a pivot point that's farther forward). But in the unique way the Venture is rigged, the Verados sit a good five feet away from each other. Opposing the engines and spinning the boat in its own length was a breeze, even in a stiff breeze. And when up and on plane, outboards provide a flat running angle and sporty handling.

Using Verados also means you get Mercury's SmartCraft instrumentation and DTS controls, which are, in a word, sweet. One beef at the helm: the electronics flat is secured with eight screws and can't be easily accessed from the rear, so do-it-yourselfers who work on their own electronics will need a screwdriver and some time and patience to get to the wiring.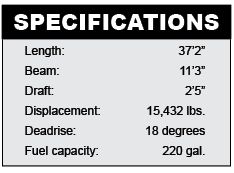 Naturally, designing a boat this unique can raise some unexpected issues that, if it's not well thought out, could create a lot of problems. But Sea Ray clearly sat down with a clean slate, and preemptively solved them. Consider, for example, flushing out the Verados. So you won't have to lean over and find the freshwater flushing ports, they plumbed a pair of ports into a small compartment under the hatch between the sunpads. Or take note of the special air intakes, which vent into the bilge before piping into the motor compartments, to minimize saltwater intrusion. And yes, you can tilt the engines up and out of the water without opening up those engine compartments.

If it seems as though Sea Ray invested a lot of time and energy into the 370 Venture, it's because they did. And if our guess is correct, we're going to see a lot of other manufacturers copycat this concept. It only makes sense. Because in this day and age, outboards don't merely present yet another power option—they rule.

For more information, contact Sea Ray Boats.

-Lenny Rudow