See more articles
Sea Ray 390 Express Cruiser: Used Boat Review
The Sea Ray 390 Express Cruiser is an attractively priced family boat, one of Sea Ray's more popular lines during its eight year production run.
Talk about home waters. Larry Young has been boating on the rivers and lakes of eastern Tennessee just about all his life, and he's done it in a variety of boats. His first was a 16-foot runabout with an outboard, perfect for a youngster to mess about in. Nine more boats followed, each well-suited to Young's boating lifestyle at the time, including a 36-foot houseboat, a 19-foot bowrider (a family boat for many years), a 28-foot flybridge cruiser and a 37-foot aft-cabin cruiser.





The latter was the only boat that didn't work out, says Young, 65, a Chattanooga, Tenn., attorney. "It wasn't quite the boat we thought it was," he says. "It just didn't work out, so we decided to sell it and start looking again."

Good move. In January 2007, they received a call from a salesman they'd previously spoken with, and he said he had just the boat for them and that they wouldn't get a better deal. "We took a look and saw right away how nice it was," says Young.

It was a 1988 Sea Ray 390 Express Cruiser in what Young calls "immaculate" condition. The $59,000 price was right, and he and his wife, Libby, jumped at the deal. "I've always been convinced
the old Sea Rays were built well. They're a big seller around here; you always see them," says Young. "I felt safe buying an older Sea Ray."

Another good move for Young. "I know that word 'immaculate' gets overused," he says. "But this boat was beautiful, especially inside. We'd been looking at 33- and 34-footers, but this boat was just too nice for the money to pass up."

Now that they've had it for a year, it seems to be a perfect fit. "With a 14-foot beam, it's an honest 39-foot boat; it's a big boat," says Young. "The big aft cockpit is perfect for us. We go out a lot in the evenings, rafting up with other boats, and the room [on our Sea Ray] is on the level of a much bigger boat."

The couple also appreciates the fact that the cockpit can be fully enclosed. "That greatly expands the room on board," says Young. "And you get some protection from the weather, which is important because we boat all year long around here."

Young's twin MerCruiser 340-hp gas inboards were standard at the time the boat was built. Though the 390 Express Cruiser will coast at 15 to 16 mph, Young runs along at a leisurely 9 or 10 mph, the engines turning 1,700 to 1,800 rpm. "It'll run all day at that speed and not use much gas," he says. Fuel capacity is 300 gallons.



The boat's spacious floor plan is another plus, says the burly, 6-foot-plus Young. "I'm a big guy, and I need room," he says. "The layout is open inside, and that's great for me. The big cockpit, the openness of the cabin — they were big selling points.

The couple stays on the boat three or four days at a time — "It's our condo on the water," says Young — and the three-burner stove, electric refrigerator and microwave in the galley make cooking a breeze. There's plenty of storage, too, including in-sole receptacles.

"There are lots of [Tennessee Valley Authority] lakes in the area, and the Tennessee River runs right through town," says Young. "Lake Chickamauga is close by, so we can run the river to lots of different lakes."

Young retired not long ago, only to go back to work. The next time he retires, he has other plans, and the Sea Ray's at the heart of them. "When I decide to retire for the second time, we'd like to do the Tombigbee Waterway down to the Gulf of Mexico," he
says. "With the cockpit, the roomy cabin, all the storage on board and that big fuel load, I think this would be a good cruising boat. At the moment, we're just getting comfortable with it, and so far it's proven to be just what we need right now."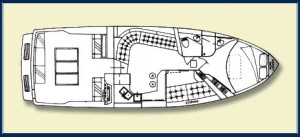 WALKTHROUGH
Sea Ray's 390 Express Cruiser enjoyed a lengthy production run, thanks largely to its ample cockpit, an innovative and spacious two-cabin interior, and twin engine (gas or diesel) power options. The styling was contemporary, with a low, sloping cabin top surrounded by a walkaround deck and rails. The raked aluminum-frame windshield and integral radar arch were also distinctive.

The cockpit gets much of its space from the boat's nearly 14-foot beam. There's an aft bench and lounge seating, and engine access is through a large in-deck hatch. The bridge deck, up one step, has room for a full helm station to starboard with a double helm/companion bench seat.

The twin-cabin layout below is versatile, with a large island berth forward that can be closed off. The adjacent head, to port, is laid out with a stall shower. There's a convenient midcabin with over-and-under bunks to starboard, which closes off with a sliding bulkhead. The L-shaped dinette is to port amidships in the large central area. A fully equipped galley to starboard includes a double sink, stove, refrigerator and room for a microwave, coffeemaker and other accessories.

Standard power was twin 340-hpMerCruiser inboards, and 375-hp diesels were optional. The latter option gave the boat a top speed of 30 mph.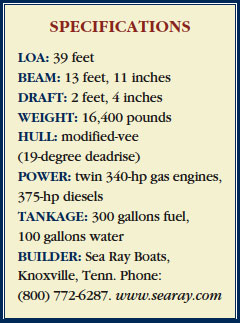 AVAILABILITY
The Sea Ray 390 Express Cruiser is easily found on the used-boat market. Prices start in the mid-$40,000 range and reach about $80,000 for later models in top condition. A pair of 1987 boats — one in Florida and one in Maine — were selling for about $45,000 each. The Florida boat featured a custom hardtop, two air conditioning units and an Awlgrip hull. The Maine boat, listed in "very good condition," was powered by twin MerCruiser 340-hp engines with 450 hours. Another 1987 model, a freshwater boat in "excellent" condition, was selling for $68,000 in the Great Lakes. Power was twin gas Crusader 350s, and extras included air conditioning and heat, new canvas, and upgraded electronics. The forward cabin had been redone, and the entertainment center included a television, VCR and stereo system. The most expensive boat we found was a 1990 model in Michigan for $79,900. New to the market, the freshwater boat came with twin MerCruiser 340s and new electronics, including a Raymarine plotter and Simrad autopilot.



Steve Knauth is a contributing writer for Soundings Magazine. This article originally appeared in the November 2008 issue.