See more articles
Sea Ray L590 Fly Video: First Look
The "L" in L590 stands for "Luxury," and this boat is exactly that–luxurious.
Well-known boat manufacturer Sea Ray is so dedicated to the idea of luxury that it decided to produce a model line dedicated to the whole idea of comfort and performance. The result? Sea Ray's "L" line, which stands for luxury.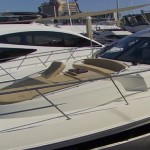 The newest addition to that stable is the Sea Ray L590 Fly, which was launched at the 2014 Fort Lauderdale International Boat Show. It joins the L650 Fly, which was introduced at the 2014 Miami International Boat Show. When we went aboard we found an open and spacious main salon/cockpit arrangement, clever master stateroom setup, and hey, what about a 30 mph top end? Watch to see for yourself.