See more articles
Sea Ray's 270 SLX, a Great "Go to Dinner" Boat
With plentiful standard features and a well thought out design, this versatile boat says "you have arrived."
There are boats that serve as stepping stones, the entry level boats we all start out owning. Then there are the boats to which we all aspire, and that hallowed ground is occupied by precious few brands. Sea Ray registers among those brands and its 270 SLX is one of those latter boats.





Sea Ray has changed the look of its sport boat lineup over the last few years. Gone are the off-white hues, the soft surface breaks and earth tones. In their place are crisp white gelcoats, with elegant contrasting colors and sharper lines defining the hull and deck. The result is an elegant-looking runabout, right for the times and the boat's target market.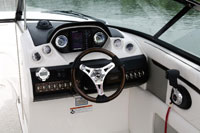 "It really appeals to a number of audiences," said Rob Noyes, Sea Ray vice president of marketing. "It appeals to the high-end consumer who is looking for a premium, larger, single-engine day boat. There's also a secondary market for that boat in people who might already have a large boat, say a cruiser or a yacht, but are looking for a premium day boat."

Despite its status as a premium boat, the 270 SLX also touts a downright reasonable price. MSRP is $63,683, which does not include a trailer, but when you consider the price of a high-end towboat and its limitations in terms of size and uses, the Sea Ray 270 SLX is a bargain.



The base engine is MerCruiser's 300-horsepower 350 Mag MPI small block with the dual-propeller Bravo Three drive. No Volvo-Penta power is offered because Sea Ray's parent company Brunswick, also owns Mercury Marine. Given the boat's 5,555-pound dry weight, the base engine will be merely adequate, but because of the Bravo Three, it will provide ample punch on the low end and midrange, where most people do the majority of their boating.

Power options range from the 320-horse 6.2-liter small block, to the 375- and 425-horse 496 big blocks, all of which come with the twin-prop Bravo Three drive. The big blocks also are available with MerCruiser's digital throttle control. Of course, added power equates to a steeper price tag, so buyers will have to decide how much power they're willing to pay for.



In stock form, the boat is reasonably well equipped, but the 270 benefits from a couple of options. Foremost, the colored hull is imperative because of how much more handsome the boat looks with contrasting gelcoats. Make ours navy blue. Second, the water sports tower also adds visual flair while being strong enough to pull wakeboarders. Third, the canvas package is ideal for keeping the interior clean while the boat is not in use, which, let's face it, is more often than not.

Standard features are plentiful. Snap-in carpeting is standard, as is a bow walk-through door and an enclosed head compartment with a pump-out commode. These features are often optional on other boats, so it's nice to see them provided as standard. Likewise, the cockpit table and wet bar come standard, as do the dash-mounted Northstar chart plotter and a compass.



Standard and optional features aside, the 270 SLX also benefits from a few design cues that might not be apparent at first glance. For example, the swim ladder is mounted beneath the swim platform, rather than in a locker on top of it, which means no more hatches banging in rough water if the latch breaks or if you forget to batten it down. Second, there is ample freeboard to mount the engine low enough to allow designers to provide a center walk-through to the swim platform.

The list continues. Driver and co-pilot seats feature fiberglass backs. The dash is clean and uncluttered, with aircraft-style toggle switches. Bow lounges are actually long enough for, well, lounging, and the backrests are canted at just the right angle. And there are side-opening stowage compartments beneath the aft sun pads.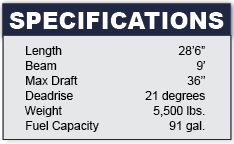 "It's a really good selling boat for us," Noyes added. "And customer satisfaction is extremely high."

Whether you're seeking a secondary boat, a "go-to-dinner boat," as we've heard them called, or you are moving up to a premium day boat, the Sea Ray 270 SLX is worth a look.



Editor's Note:
Brett Becker
is a freelance writer based in Ventura, CA. He covers the marine, automotive and racing industries for various print and web titles.