See more articles
Seastar Optimus 360 Outboard Joystick Solution: Video
Seastar Solutions' Optimus 360 outboard joystick system works with an existing multi-outboard installation to help provide stress-free docking for boat owners.
Outboard joystick docking systems can be immensely helpful when it comes to squeezing a boat into a tight slip at the end of a long day or negotiating one's way into a busy fuel dock situation (especially if wind and current are pitted against you). But not many boaters have actually seen one of these systems in action.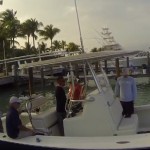 We took few minutes to film this quick video showing how two Seastar Solutions Optimus 360-enabled Suzuki outboards get the job done. As you watch, keep in mind that the boat operator isn't adjusting throttles or turning a steering wheel--it's all being done through easy joystick inputs at the helm.


For more about outboard joysticks, read