See more articles
Morris 46: Boat Review
Morris 36 is a Chuck Paine design that makes all the right moves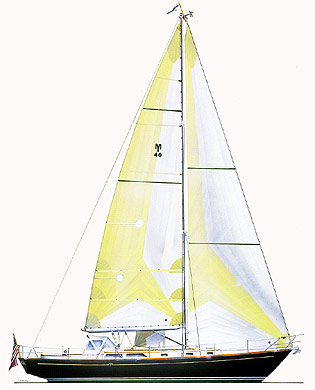 Thick, wet snow was blowing into Southwest Harbor, Maine, on the late November day we planned to depart for Bermuda. It was snowing hard enough that I could just see across the harbor, telling me we had no better than a quarter-mile visibility. Winds in the protection of the harbor were 15 knots, so they were sure to be at least 20 knots offshore.

Just two of us were taking this Morris 46 south, and as I stood in the cockpit looking at the snow-covered decks and frozen lines, I hoped the Espar heater was willing to run at full throttle for the next few days. I was thankful that this Morris had been built with a hard dodger; I knew it would provide us with some protection from the wind, snow and cold temperatures we'd have to endure for the next few days.

Departure

The short-term VHF forecast told us that a low-pressure system currently centered over Mt. Desert Island was moving northeast at 10 to 15 knots. Winds in the Gulf of Maine were predicted to be 20 to 25 knots from the north early, then shifting to the west as the low moved away. We elected to depart and, after digging the mooring lines out of the snow, took them aboard. We motored through Southwest Harbor and headed out Western Way.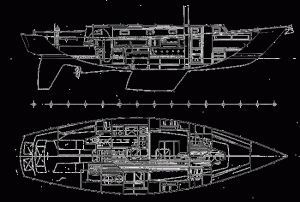 Visibility continued to drop, and soon we were navigating purely by radar. Morris had installed a combination radar and charting display in the cockpit, so I was able to stay on deck and adjust our course with the Robertson autopilot without having to go below. Fortunately, I had brought my Mustang Ocean Class exposure suit along for this trip and was not feeling the sting of the cold air and snow.

Once we'd cleared the south end of Western Way, we set a southwest course to Cape Cod and rolled out the 90-percent high-cut yankee to take advantage of the northerly wind. We left the mainsail down for the time being; neither of us wanted to go forward and deal with the frozen sail-ties, lines, and accumulated snow that covered the furled mainsail and decks.

Performance Under Way

With the jib rolled out and trimmed, our speed picked up, and soon we were making 7 to 8 knots over the ground while motor-sailing. As we moved offshore, the swells increased, and before long we had four- to six-foot seas off our starboard quarter. Once we moved into these conditions, we began consistently surfing down the larger waves. We would come up to a swell and slide down the other side with our speed increasing to 10 knots. At first, this was surprising since I did not expect what appeared to be a traditional hull design to surf. But here we were surfing down almost every wave, so I knew this was not a fluke. And we were sailing quite well with just the yankee and a little help from the engine.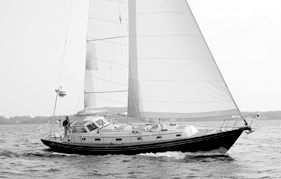 When you look at the designer's numbers and the hull shape of the Morris 46, the explanation for surfing quickly becomes apparent. Below the waterline, the keel and hull are very modern, with a minimum amount of wetted surface of 392 square feet. This modern and efficient underbody, coupled with a 13-foot beam and a 270. 6-square-foot waterplane area, allows the Morris 46 to stand upright and almost slide across the water. The boat is not heavy, weighing in at 23,500 pounds. This displacement, however, does not indicate a lightly-built boat, but rather a boat in which the weight has been put where strength is needed. Later in this voyage, we tortured the boat in rough seas, and it showed no signs of weakness.

As we moved south, boat speed under power or sail was never less than 7.5 knots. Hull speed, upright, is 7.9 knots. We soon realized this was a fast boat, a feature not readily apparent from its outwardly conservative and traditional appearance.

The Hard Dodger

As we sailed across the Gulf of Maine, which was devoid of other vessels, wind and seas continued to build. I looked forward to seeing the predicted upturn in readings on the Vetus recording barometer, but they continued to fall. Later that first night, as we approached Cape Ann, winds shifted to the west at 30 knots and the barometer began to rise, just as the blowing snow stopped. We were now close-reaching in lumpy seas and very cold temperatures, easily down in the 20 degrees Fahrenheit range.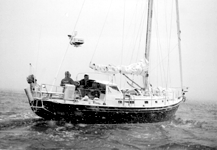 This is where the hard dodger really proved its usefulness. Its solid construction provided both thermal and acoustic protection, and the continual shower of spray from sailing into the wind and lumpy seas never soaked us. Morris built the hard dodger as an integral part of the deck. It is not an afterthought and, thus, did not violate the boat's pleasing appearance and structure. Windows are tempered safety glass, and its top and sides extend sufficiently aft to completely protect crew sitting underneath it. During our trip, heat from the Espar heater wafted up the companionway and thankfully clung inside the rigid dodger producing some relief from the cold.

Hull construction

We reached the Cape Cod Canal by mid-morning of our second day and continued on after refueling in Sandwich, Massachusetts Now came the true test of Morris's hull construction. As we exited the Cape Cod Canal, winds shifted to the southwest and we were relegated to beating down Buzzards Bay into short, choppy, and breaking seas. It didn't require too much of this treatment to convince us to head for Newport, Rhode Island, where we could wait out the weather pattern. Knowing that we'd be in soon, we didn't baby the boat and, instead, pounded into the seas for hours on end.

We slammed and then slammed some more. Often, when breaking seas came in groups, we would slam two or three times in succession without a pause. Our teeth would rattle each time we came off a wave, and the sound was so awful that I wondered if we were damaging the boat. I went below and watched and listened as we engaged a few more waves. Though the sound was still dreadful, I detected no movement in the hull, creaking of bulkheads, or other indications of hull distress. Few boats could have survived, undamaged, the punishment we laid on this Morris 46 during the remainder of that day. When we finally bore off to enter Newport that evening, I am certain that the crew had suffered far more than the boat.

Morris's hull withstood the punishment we inflicted because of its robust construction, which consists of three elements: solid laminate hull, multiple internal frames and longitudinals, and interior bulkheads continuously bonded to the hull. Each hull is constructed using vinylester resin and bi-axial fiberglass built of roving and mat.

Inside each hull there are four full-length longitudinals, approximately 5 inches wide and 3 inches high, cored with end grain balsa. In addition to longitudinal the hull has cored balsa frames on 20-inch centers placed from bow to stern and gunwale to keel. These numerous cored ribs and frames (30 of them in all) give stiffness to the hull and provide impact protection.

What was equally impressive during our pounding to weather down Buzzards Bay was that we continued to make 7 to 8 knots over the ground, discounting the effect of the bay's current. I am convinced that the boat's consistently good speed is due to weight distribution. There is little weight in the ends, with the engine, fuel and water tanks, batteries, and Luke anchor stowage all located low and in the boat's center. This concentration of weight amidships keeps the center of gravity low, and prevents pitching, which results in superior performance.

Passagemaking qualities

Off-watch heaven: Belowdecks, the Morris has a very functional layout for voyaging. There is a quarter-berth to port aft of the galley, navigation station to starboard, and head and shower aft to starboard. With this layout, you can operate the boat without going forward. The off-watch crew can sleep amidships or in the aft quarter berth, while those on-watch are able to use the seakindly U-shaped galley, nav-station and head without disturbing those sleeping. The aft head with separate shower stall, right below the companionway, makes a fine impromptu wet locker to help keep the living quarters dry. Three arrangement plans for the Morris 46 are offered.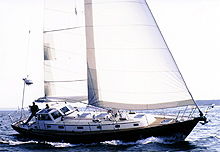 Versatile rig: A double-spreader carbon mast supports 879 square feet of sail in a cutter rig. Using a roller-furling headsail and hanked-on staysail, you have flexibility and redundancy. A full-batten main completes the sail plan. All lines run back to the cockpit, and each is equipped with a stopper so one person can set, trim and dowse sails. I was pleased to see that all deck hardware was oversized. A preventer lead through the boom to its own stopper in the cockpit simplified controlling the boom.

Dry below: We took a tremendous amount of water over the decks during our voyage, due to almost continuous rough seas, snow and rain. Despite this, we took water below on only one occasion when we forgot to turn the Dorades around and several big seas overwhelmed the Dorade boxes. Tom Morris says that his intent is to build with the watertight integrity of aluminum or steel boats, and this shows.

Dry on watch: That same torrent of water taken over the bow that did not reach us when we were below also did not soak us when we were on watch because of the hard dodger, which was sufficiently deep to protect the crew.

Easy handling: We used the Robertson autopilot almost continuously, but when we steered by hand, the large wheel, balanced spade rudder, and robust foot chocks made the job easy. I was impressed by the good visibility from the helm; surprisingly, the rigid dodger did not block forward vision in the least.

Additionally I was impressed by the boat's balance. On departure form Newport, I had to back out a distance of several hundred feet from our berth. I accomplished this by standing on the forward side of the wheel and driving the boat as you would an automobile. I easily maintained a straight path while backing at 2 to 3 knots, which convinced me the boat was properly designed below the waterline.

We easily sailed the boat with one person on deck, using the hard dodger as refuge, the cockpit radar and charting display for navigation, and the Robertson autopilot for steering. And as a concession to luxury, cockpit- mounted stereo speakers system allowed National Public Radio's All Things Considered to liven up solo watches on several occasions.

It takes over nine months and more than 6,000 hours to build a Morris 46. Construction is done by way of a seamanlike process that is tracked and evaluated on check-off lists and flow charts hung near each boat as it is built. When a finished boat leaves the Morris shed and splashes, it already can be considered a true blue water vessel.

Morris 46
| | |
| --- | --- |
| LOA | 45' 11" |
| LWL | 35' 6" |
| Beam | 13' 0" |
| Draft | 7' 6" |
| Sail area | 879 sq. ft. |
| Displ. | 23,500 lbs. |
| D/L | 255 |
| SA/D | 17.14 |
| Water | 150 gals. |
| Fuel | 80 gals. |
| Designer | Chuck Paine |
| Builder | Morris Yachts |
| Base price (11/98 del.) | $554,600 |