See more articles
Spencer 60: Heavy Artillery
These high-end fishing machines are built light and fast, and are customized to each owner's tastes.
What's one common character trait of Spencer Yachts owners? One good bet is that they all know exactly what they want in a boat. There's no guessing, no assuming, and no decision left unmade with these sportfishing machines, because each one is built to the owner's specifications. Case in point: the Spencer 60, a convertible that leaves no stone unturned in the search for the ultimate sportfisher.





First and foremost, consider construction: the Spencer 60 is cold-molded with triple-planked Okoume ply, with a layer of fiberglass inside, outside, and between each layer of the hull. Epoxy resin melds the entire affair into a solid piece, resulting in a boat that weighs in at a hair over 60,000 pounds. Most molded-glass convertibles in this size range weigh 15,000 to 30,000 more, yet their hulls are no stronger than the Spencer's. Net result? While it takes those molded hulls between 3,600 and 3,800 horsepower to attain top speeds in the 40-plus mph range, the Spencer comes closer to 50 mph with 300 to 500 fewer horses in the stable.

What about the fact that weight is often an advantage when the seas kick up? The cold-molded construction technique trumps it. Wood floats, fiberglass doesn't, and you can feel the difference underfoot when crashing through four- and five-foot ocean rollers—because cold-molded boats don't crash through the waves, so much as leap over them. Put this together with a nine-degree transom deadrise and gobs of Carolina flare, and suddenly those rough waters don't seem quite as rough anymore, from the Spencer's helm.



Interior design is, of course, left largely to the owner, but you'll find a few common traits throughout all Spencer 60s. The wood grain in the cabinetry, for example, is book-matched. Fit and finish is utterly flawless, and the standard three-stateroom layout includes dedicated fishing tackle lockers and gobs of stowage for your cargo of lesser importance. What if you put a higher priority on cutting edge entertainment systems, luxurious furniture, or extended living spaces? No problem, Spencer can accommodate virtually any attitude—just as long as you know exactly what you want, in your sportfishing machine.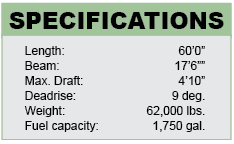 Other choices: Noting that this is a highly-customized boat, interested parties should also look at Bayliss Boatworks 60, the Weaver 60 SF, and the Jarrett Bay 58.

For more information, visit Spencer Yachts, Inc.



NEWS FLASH: The Spencer 60 has been named one of the Top 10 Fishing Boats of 2012.

- Lenny Rudow