See more articles
Starcraft 240 SCX: Deckboat Meets Runabout
Starcraft's striking 240 SCX is packed with enough innovation and design features to make you give a second look—and maybe even bring one home.
Starcraft has earned a solid reputation for making aluminum and fishing boats, some of which, like the Starfish 176, are covered in our Video Boat Review library. And they build fiberglass deckboats, too, like the 2110 Calais which we reviewed a while back. One of Starcraft's latest creations, however, is a boat which is part runabout and part deckboat—the 240 SCX, which features a wide, deep cockpit, with graphics packages to suit virtually any taste.





There's a lot to like about the 240, but let's begin at the stern, where the 240 exhibits some innovative features. The walk-through to the swim platform, for example, comes with a stowage locker underneath. The swim platform itself is covered with SeaDek, a composite material that offers unmatched grip in wet or dry conditions. It feels great under bare feet and is far superior to traditional nonskid. Recessed into the platform, the four-step telescoping swim ladder extends deep into the water for easy boarding.

But it gets better. The rear bench features twin backrests, which allow passengers to face forward while under way, or face the water while at rest and the kids are swimming behind the boat. That bench also folds flat—with one-handed operation—to form a full-length sun pad. It's a slick setup.

In terms of options packages, there are two directions to go. Empty-nesters likely will want the lifestyle package, which includes snap-in carpeting, cupholders illuminated with LED lighting, an upgraded stereo, a wet bar, transom shower, and underwater lighting.



For families with kids who enjoy being dragged behind the boat, the sport package is ideal. It includes a wake tower with speakers and board racks, sport graphics, a black dashboard and sink, and the sport furniture package. The package also is a bit racier looking, with lots of runabout-style eye-appeal. What's more, the helm design lends itself well to the sport package, with large dials and appliqués reminiscent of late model Mini Cooper automobiles.

Both packages include a Humminbird 385ci fish finder and GPS unit. A Ritchie compass, mounted atop the helm, is also standard. On the port side, the 240 comes with a head compartment with an optional Porta-Potty.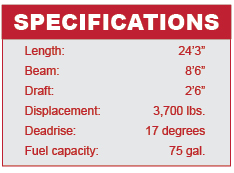 Up front, the bow area is deep and wide, thanks to the pickle-fork design. It has grab handles, filler cushions and a removable dinette table. There's in-sole stowage—with a lid supported by gas struts—between the cowl area and a bifolding wind dam, which will block chilly breezes. Even better, a deckboat's characteristic utility comes through here in the bow platform, which has another telescoping swim ladder concealed in an anchor locker.

In terms of power, the standard engine is MerCruiser's 350 Mag MPI and Alpha One drive. The powertrain is perfectly suited to pushing around the 3,700-pound 240, and is included in the $56,499 MSRP.

Starcraft might not be the first name that leaps to mind when you think of fiberglass runabouts and deckboats. But the 240 SCX puts these two types of boats together—which brings it front and center.

For more information, visit Starcraft Marine.

-Brett Becker