See more articles
Stinger 18HP Special Edition, by Lowe: Video Boat Review
Lowe built the Stinger 18HP Special Edition to celebrate their 40th anniversary, and boats.com's reviewer found a high performance aluminum bass boat that's ready to fish.

Read Charles' Stinger 18HP Boat Test Notes

VIDEO BOAT REVIEW TRANSCRIPT

Does this look like a great way to celebrate your anniversary? Lowe Boats is marking 40 years in business with this 18-foot Stinger 18 HP Special Edition, an aluminum bass boat loaded with features that has surprised us with its price, and its outstanding performance. Check it out.

TESTING THE RIDE

We're out here on the lake with the Lowe Stinger 18HP, and we're gonna give that pad hull a try. What should I be feeling for?

Clint Starnes, Lowe Boats: You're gonna feel a great hull shot, good top end speed, and the boat really free up over 4500 rpm.

All right, let's let her rip!

What exactly are we talking about when we say pad?

Clint: Well you can see the pad running surface here, it's the flat area at the back of the boat which helps provide lift when the boat's at speed.

We tested the Stinger 18HP in a variety of water conditions. I was hoping for a smooth ride and great handling and this boat didn't disappoint. We measured a top speed of a solid 50mph, and the boat got 6.1 gph at 26 mph.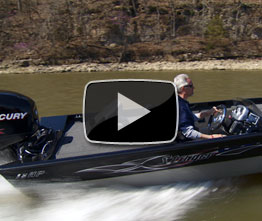 FEATURES

The Stinger offers 29 square feet of space here on the bow casting deck, so lots of elbow room. Now this boat is made with all aluminum construction; there's not a splinter of wood in the boat, and it's all welded. You can see how they've nicely reinforced things here.

This big storage compartment in the bow holds 6 cubic feet of gear. They've got a 13 gallon live well up front. Now this rod locker will hold a seven foot rod. If you've got something longer than that, or a big flippin' stick, you'll have to keep it on the deck.

Now in the aft casting deck, the Stinger's got a 30 gallon live well with a divider, and two of these storage compartments for tackle boxes. They'll each hold three of these Plano boxes.

Now on the transom, we've got a two stroke outboard.

This is a Mercury Optimax Pro XS 115. It's a "hot" 115 motor that has carbon fiber intake reeds and a revised intake tract to make more power. Now a key feature is it weighs 24 pounds less than a 115HP four-stroke. That really helps this boat get up and go.

The Stinger 18 HP is a special model, loaded with lots of extra features. We start up front here with this Motorguide 24V trolling motor. An extra Lowrance X52 fishfinder. We've got this beautiful black and silver custom upholstery on the fishing seats and the regular seating, a tilt steering column, polished stainless steel wheel, special silver cap, and special instruments with chrome bezels and brushed aluminum faces. The custom matching trailer has cast aluminum wheels. On the hull we've got this beautiful black and silver two tone paint, special graphics, and this Lowe anniversary logo.

WRAP UP

The Stinger 18HP splits the performance difference between a typical aluminum bass boat, and a fiberglass rig that costs a lot more money. It's ready to fish, and loads of fun. Happy anniversary, Lowe.

For more information, visit Lowe Boats.