See more articles
Stingray 195RX: Prescription Filled
The Stingray 195RX is a perfect remedy for budget-minded runabout buyers.
In the  languishing economy we've seen a number of manufacturers developing entry-level boats in the hopes of luring the budget-minded shopper, the latest of which is the Stingray 19RX. The good news is that despite their focus on frugality, the boats they're building are appealing prospects—and in some cases, you can get a new boat for the price of a used model.






Stingray has entered the fray with the new 195RX, its prescription for selling something as "unnecessary" as a boat in a tough market. And by golly, the formula is so simple, it just might work. For starters, the price is $19,995. Out the door. That means the price includes the boat, motor, trailer, freight and dealer prep. No hidden costs at all. You can buy this boat for that price plus tax. Here's what you get.

Standard power—and the only power, for that matter—is MerCruiser's 135 horsepower 3.0 engine, with an Alpha One drive with power steering. That's plenty for the 2,290-pound boat, which you can you can tow with small SUVs like the Ford Escape V6 or a Chevrolet Equinox. Ever focused on the performance of its products, Stingray cites a top speed of 45 mph.

Inside, you get the same quality of materials Stingray uses on its larger models, including 36-ounce vinyls for its seating. You also get standard swiveling helm and observer seats, which adjust fore and aft. At the helm, the driver looks over a padded dash with a French stitching on the lip, which is surprising to see on a bargain model. We expected a simple piece of molded plastic or a dash molded as part of the deck.

Simple, black-on-white Faria gauges are set in a faux engine-turned panel. Despite its price point, the boat comes with full instrumentation including a trim gauge, fuel level, tach and speedo, oil pressure, water temp and voltage. Four rocker switches operate the blower, bilge pump, navigation and indirect LED cockpit lighting. Everything you need and not one bit more.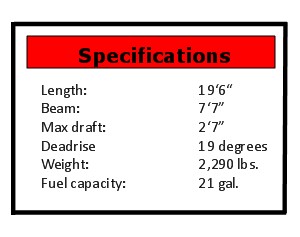 In standard trim, the 195RX comes with a stereo and two speakers, but no CD player or MP3 iPod connectivity. For $254 you can upgrade to a marine audio system with an MP3 port. You do get a 12-volt power outlet, a self-draining cooler in the bow section and in-sole stowage. It also comes with five cleats. Bargain models often skip the spring cleats amidships that are so often necessary when tying up in adverse conditions. Cockpit carpeting and a two-step swim ladder come standard, but a Bimini does not; that's a $654 option.

Stingray is stringent about building as much of its boats in-house as possible, not only to maintain high quality, but also to ensure ample supplies to the assembly line. And given the pricing strategy of the new 195RX, Stingray might need to keep the assembly line cranking. The 195RX is a model that hits the market at the right time, and fills a prescription that a lot of buyers need right now. For $19,995, you get a new runabout with a fuel-injected engine, a trailer and—perhaps most important—a warranty. A lot of buyers will take that over a used model any day.

For more information, visit www.stingrayboats.com.

-Brett Becker