See more articles
Stingray 215LR Sport Deck Bowrider: Abridged Version
Even though this bowrider is smaller and less expensive, the Stingray 215LR is packed full of the same features as its larger stable mates.
It's always nice for boatbuilders to offer larger and larger bowriders, but for many buyers more boat in a smaller package would be better—and that's exactly what you get in Stingray's 215LR Sport Deck Bowrider, when you compare it to bigger models like the Stingray 235LR. This boat's name is telling, because if you look at it from some angles, it seems to be a deck boat. From most others it's a bowrider, and that's important because there are buyers who don't care for the somewhat dowdy looks of a deckboat. And that's what sets the 215LR apart. It has the utility of a deckboat, but it also has the lines of a runabout and the performance of a Stingray.





Looks aside, the 215LR has a wide beam, a deep cockpit, and easy boarding points at the bow and stern. Both of them feature pressurized shower spigots, which are great for rinsing off sandy feet or salty water. The bow boarding platform doubles as a latching lid to cover the telescoping boarding ladder and an anchor locker. It's also nifty that Stingray includes a standard pull-up cleat at the bow.

Once you step on board, you'll find two forward facing lounges with comfortably angled backrests and grab bars that fall naturally to hand, cupholders concealed in speaker enclosures, and another locker under the bow step that can pull double duty as wet stowage or as a cooler. Walk through the windshield and you notice how fully equipped the standard version of the 215LR is. For example, the 215LR comes with a Bimini top, indirect LED cockpit lighting, flip-up thigh bolsters, and a removable dinette table with mounting points in the bow and cockpit. Tilt steering is commonly a standard item (and the 215LR has it), but the transom-mounted trim switch is not.



This boat also comes standard with a head compartment, though a Porta Potti with dockside pump-out is a $185 option. Another feature that's not standard is colored gelcoat, a $486 option, which is almost a necessity given the broad hullsides of the 215LR. That's a lot of white gelcoat if you don't tick the color option box.

The wet bar behind the driver's seat is notable for a couple of reasons. One, the standard 25-quart Igloo cooler locks into its own recess. Two, the sink features one of the smartest designs you'll find. It doesn't have a spigot that comes up from the counter top, which is always something that can break off if someone handles it improperly. Instead, the spigot emerges from the upper wall of the coaming panel. It's so simple it's brilliant, and it keeps the countertop uncluttered.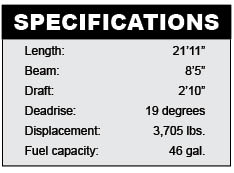 Standard power is the 220-horsepower 4.3-liter MerCruiser V6, and starting MSRP with that powerplant is a reasonable $43,168.

It's always an interesting prospect to consider a bigger boat, but it's nice to know Stingray can package a lot of the same features into a smaller, more abridged 215LR, which costs a lot less.

For more information, visit Stingray Boats.

-Brett Becker