See more articles
Stingray 235LR: Capable Crossover
With a blend of design qualities and abilities, this is almost like getting two boats in one.
Stingray has never been one of the highest-volume boat manufacturers in the game, but it always has excelled at creating boats that discreetly blur the distinctions between purposes. In other words, they like to build boats out of the ordinary.





The old 200MS was a great example of that approach. No longer in production, the 200MS was unique because it was a center-console with a stern drive. The twist was that the engine was located beneath the "doghouse" on which the helm seats were mounted. Stingray used an intermediate shaft to get the power from the mid-mounted engine to the transom. It showed genuinely out-of-the-box thinking.

That sort of thought process also is evident in Stingray's 235LR. Introduced just this year, the 235LR is part of Stingray's "sport deck" line, which is a good description for the boat.

The draws of any deck boat are functionality and versatility. The drawback is that they tend to be kind of ho-hum in terms of styling and performance -- but the 235LR cleverly offers function without sacrificing a sleek profile and satisfying driving characteristics.

Riding on Stingray's patented Z Plane hull, the 235LR comes standard with 4.3-liter V6 power from Volvo-Penta or MerCruiser. Base MSRP with Volvo Penta power is $42,372, and $42,650 for MerCruiser propulsion.



That's not entry-level money, but what's nice is that Stingray includes a long list of standard features. No, that doesn't mean silly things like a manual/automatic bilge pump or vibration dampening engine mounts, which are required by the Coast Guard or already part of an engine package (although Stingray does list those, too). Their features are honest-to-goodness amenities that in many instances are optional on competitors' models.

For example, the 235 has a pressurized shower at the bow and stern, as well as a transom-mounted trim and tilt switch. The boat has side vent windows to let in the breeze, a standard bimini top, and swivel bucket seats up front with flip-up bolsters. It also comes with indirect LED cockpit lighting, a magnetic compass on the dash, and a removable cockpit table that can be installed in the bow or at the rear bench.

The head compartment comes with a porthole and portapotty, and it can be fitted with optional dockside pump-out. The cockpit also features a self-draining one-piece liner, a removable Igloo 25-quart cooler, and a starboard-side sink with a unique faucet design that stands little chance of getting snapped off by accident. These features show a great deal of thought about how boats are actually used -- or abused.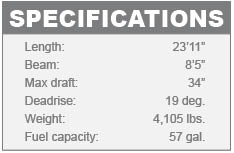 Up in the bow, Stingray includes a self-draining cooler and an anchor locker with stanchions to hold a Danforth anchor firmly in place when not in use. The anchor locker also conceals a telescoping boarding ladder. And there's another compartment up front to hold two fenders.

In the stern, there's a standard starboard walk-through to the swim platform, which is among the most spacious you'll find on any runabout and on par with that of most deck boats. It's fitted with cupholders and a grab handle placed appropriately for those using the swim ladder. The walk-through also incorporates a little cubby for stashing an additional pair of fenders.

In the 235LR, Stingray seems to understand the tough choices many buyers must make when choosing a day boat for their family. Sure, deck boats are handy and spacious, but the performance and good looks of a runabout are equally alluring. With the 235LR, Stingray has recognized those difficult choices and designed a capable crossover that offers buyers two boats in one—which makes the choice that much easier.

For more information, visit Stingray Boats.
—Brett Becker