The J133 is proudly on display at this year's Schroders London Boat Show.

Quite frankly this yacht has got success written all over it and at £250,000 including vat* with a carbon mast and rudder as standard it is very competitively priced.

This performance cruiser has been extremely well thought out and not surprisingly fifteen have already been sold in Europe, nine of which will be racing in UK waters this coming season.

After its early success in the States winning class at the 2004 Key West Race week, the J133 has already been in the chocolates in the UK and Ireland with Class wins at Cork week (WOW!) and the Tyco Hamble Winter series (JUMP).

One of the new J133's that will be making its debut at Spi Ouest this spring is Jonathan Goring's Jeronimo. Goring was part of the victorious England Red Team that won the 2004 Rolex Commodores Cup in his J109.

Bangthecorner.com contacted Jonathan and asked about his plans for the new Jeronimo and why he decided to purchase a J133.

"To be honest with you I really did not take much of a glance elsewhere when I decided to buy the J133, my previous Jeronimo (J109) was also the works boat from Didier Le Maol and he did such a fantastic job on her that I have every faith in him coming up trumps with the J133

Also with yacht designs getting faster and faster the amount of apparent wind created downwind is becoming something that is incredibly important to harness, with a bow-sprit configuration you don't just get easier sail handling you also have a set up that is very efficient downwind, in particular reaching.

Whilst Jeronimo will be doing some serious inshore racing the real goal for next season is the Rolex Fastnet, The J133 is in my opinion an excellent design for both inshore racing and offshore, it really is a good all rounder, a true racer-cruiser.

She really is the big sister of the J109 and I am confident that she will deliver as good results, I am not just looking towards next season but also towards the 2006 Rolex Commodores Cup."

I have to say that the J133 is very impressive, she already has a good track record of winning and to put it politically correct seems to race well to her IRC handicap.

But what really impressed me about the yacht was the thought that has gone into the interior, something that usually does not get me excited.



There are three equally proportioned cabins, two aft and one forepeak, they are all genuine one level doubles allowing six adults to sleep at anyone time, as the IRC rating allows for up to 14 crew there is plenty of room for off-watch R and R and from the point of view of cruising or chartering there are three decent cabins, no arguments about who gets the ?wet cramped cupboard' because there isn't one and there is good headroom throughout.

The design below is also clever in so much as certain ideas have been incorporated giving the space functionality without adding to the build cost.

A chrome pipe strengthening the pole sleeve is in the forepeak but it also acts as a place to hang lines when they are not being used.

The floorboards have streamline catches that you can open without reaching for the toolbox or losing several fingernails.

The galley has a neat way of providing a means of storing your rubbish that actually works but cost no more to install than the thought put into it.



On deck, the mast and rudder are carbon as standard, something you will see as an extra on many other yachts of this size. The weight saving aloft and stiffness of rig makes a real improvement in performance without unduly affecting its IRC rating and the huge amount of weight saving with a carbon rudder means the J133 will get its backside out of the water and really cream downhill.



There is also an option of having the jammers and halyard winches located near the base of the mast, meaning the pitman can do his stuff away from the crowded cockpit area with a far greater purchase and virtually from the rail. No more flying elbows in the cockpit on hoists.

On the racing side of it maybe the J133 has one chink in its armour and that is the fact that it will be racing in the UK near the bottom of class zero under IRC and may be at a disadvantage in races favouring bigger boats in the same class but apart from that I reckon that the J133 will be picking up quite a bit of silverware in 2005 and beyond.

* In the UK it is possible to claim the VAT back if the yacht is chartered out, Contact J UK for details.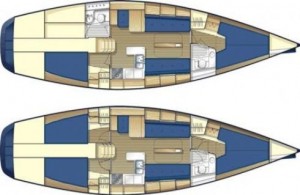 Photos courtesy JBoats
Specifications

| | | |
| --- | --- | --- |
| LOA | 43.00 | 13.11 |
| LWL | 37.80 | 11.52 |
| Beam | 12.78 | 3.90 |
| Standard Draft | 7.50 | 2.29 |
| Shoal Keel Option | TBD | TBD |
| Displacement | 17900 | 8119 |
| Engine | 56 hp | 56 hp |
| 100% SA | 964 | 89.6 |
| SA/Dspl | 23 | 23 |
| Dspl/L | 145 | 145 |
| Headroom | 6'4" | 1.93 |

J-UK
1 Mariners House
High Street
Hamble, Southampton
Hampshire
SO31 4JF, United Kingdom
Tel: +44 (023) 8045 5669
Fax: +44 (023) 8045 5770
E-mail: info@j-uk.com

JBoats
557 Thames St.
Newport, RI 02840
Tel: 401.846.8410
info@jboats.com
www.jboats.com