See more articles
Sun Tracker Fishin' Barge 22 XP3: Video Boat Review
Fish, pay attention–this pontoon is coming for you.
While lots of folks enjoy pontoon boats for lying around in the sun, coving, or having fun wake boarding or waterskiing, some folks like them as a fishing platform.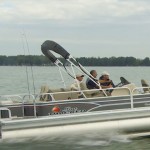 Wait, what? That's right, pontoon boats can be well-equipped to serve the purposes of anglers, and the Sun Tracker Fishin' Barge 22 XP3 is one such pontoon that's outfitted to the nines for fishing.


Onboard the Fishin' Barge 22 we found fishy features such as dual live wells, tons of rod holders, a locking rod stowage compartment, and lots more. But what good is a boat if it isn't around in 10 years? No worries, the Sun Tracker Fishin' Barge 22 XP3 is built to last and carries a 10-year, bow-to-stern warranty, plus a limited lifetime warranty on the deck and structure. Talk about putting your mind at ease.

Boat Test Notes
Specifications
Length
22'2"
Beam
8'6"
Draft (hull)
N/A
Deadrise
N/A (Pontoon)
Displacement
2,580 lbs
Fuel capacity
35 gal.
Concept:

Offer a pontoon boat dedicated to angling, but with the usual pontoon boat comfort and a whopping 10-year, bow-to-stern transferrable warranty.

Construction:

-Pontoons are 26" diameter, robotically welded, multi-chambered logs.
-Pressure-treated ¾" seven-ply wood deck, covered with 22-ounce marine grade carpet and warranted for the life of the boat.
-Z-bar cross-members extend the full width of the boat.
-Rotomolded poly livewells, rodbox, and seat bases. Rodbox would be improved by adding a rack; as-is, your rods will bounce around in there.
-Extruded aluminum motor pod.

Performance:
Performance Data
Test conditions: 10-knot breeze, small chop, one person onboard.
RPM
MPH
GPH
MPG
1000
4.0
0.8
5.0
2000
7.9
2.1
3.8
3000
15.1
3.5
4.3
4000
23.5
6.5
3.6
5000
32.5
10.5
3.3
6000
38.0
14.6
2.6
Power
Single Mercury 150 FourStroke outboard, swinging a three-bladed 16" x 14" aluminum prop.

-Speed hit 38 MPH with a 150 Mercury FourStroke outboard.
-Cruising at 25 to 30 MPH, fuel economy never dips below 3.3 MPG.

Handling:

-Triple-log XP3 package enhances handling, but the boat does turn flat instead of banking in like a V-hull.
- Does well in a slight chop; it was calm on test day, but the chop we had made zero impact on the boat. Circling back into the boat's wake, the tri-toon rig chopped right through.

Unique features:

-Livewells can be found both fore and aft.
-Fish ruler is molded into poly livewell compartment (but is only 16" long).
-Multiple pedestal seats and seat bases mean you can sit and fish wherever you like, both fore and aft.