See more articles
SunCatcher 322 SS Pontoon Boat Review
Join boats.com and boat reviewer Lenny Rudow for a full walkthrough of a SunCatcher 322 SS pontoon boat

Join boats.com and Lenny Rudow at Anchor Boat Sales in North East, Maryland, with special guest Caroline Cozier as the two explore the amenities onboard a SunCatcher 322 SS pontoon boat, built by G3 boats. Relax, refresh, rejuvenate is the Suncatcher mantra, and when you lie back in this boat it's easy to see why. Fishing is incredibly convenient, and towing riders behind the boat is a breeze. This is a great boat for relaxing, kicking back and cruising all day.

Many pontoons have standard-issue couches up in the bow, but on this pontoon the aft backrests are angled back. So you can sit facing the center of the boat in an upright position, or you can kick back facing forward and relax by reclining up here, too.

With many creature comforts, she is a party barge that stands out from the million and one pontoon boats out there on the market - from her built in glovebox (complete with USB chargers), to premium integrated courtesy lights and vented under-seat storage. "Good gravy!" exclaims Rudow - this pontoon has cupholders galore in all of the arm rests, gas struts on all compartments, a built-in trash can and huge tow-toy stowage in the middle of the vessel - as Lenny illustrates by getting inside himself! When you fancy a dip in the ocean, all you have to do is pop-up the changing room lounger insert.

Those lounger bases swing up and stand up all by themselves, unlike other models. It also comes with upgraded flooring, under-deck skin (which reduces resistance) and high back Captain's chairs.

Pick Your Pontoon Colour



The pontoon is available in a number of different graphics and colors with no additional charges.



A true "relaxation machine", this one is worth a look if you're in the market for pontoon boats for the whole family. Moreover, it is reasonably priced u

nder the $50,000 mark and yet it's has a powerful engine.



Pontoon Boats For The Whole Family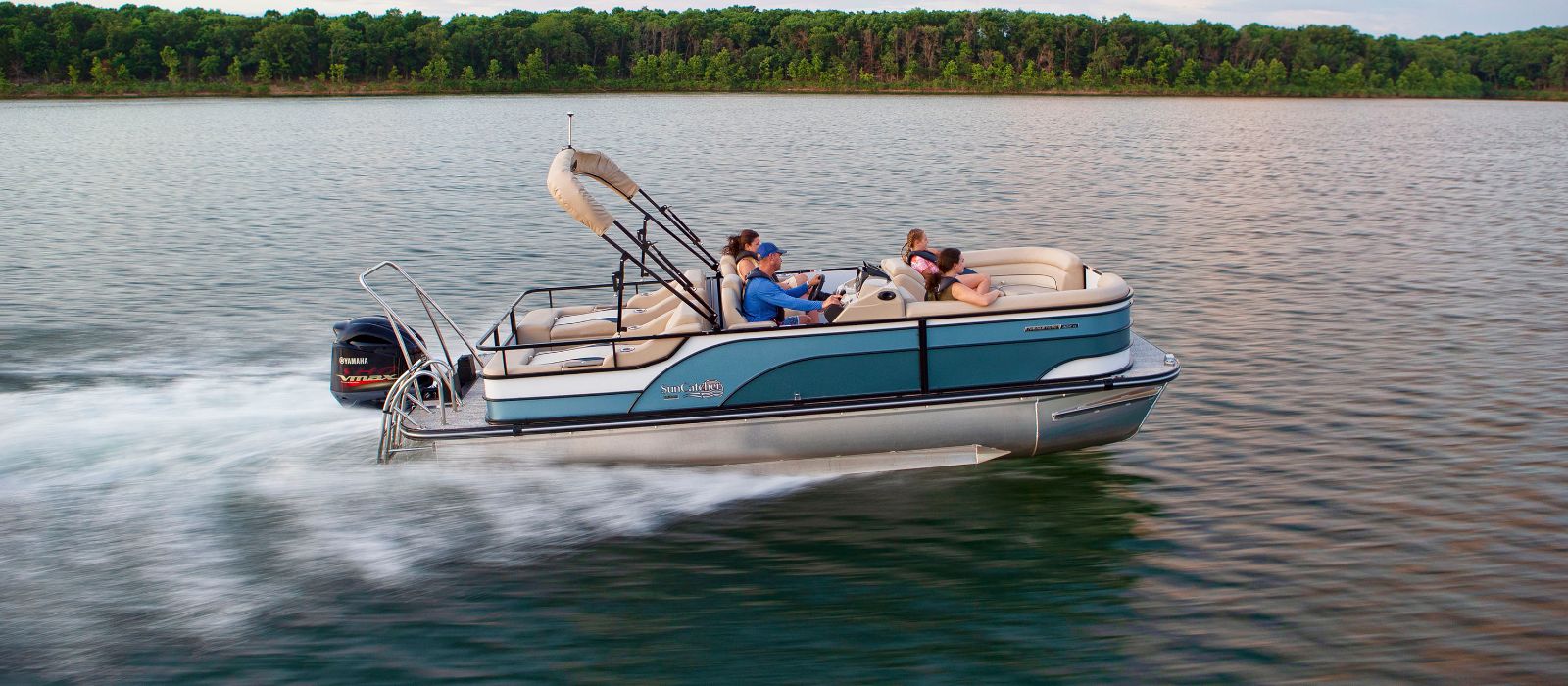 SunCatcher 322 SS pontoon. Image credit: Suncatcher

Pontoon boats have become one of the hottest, arguably most exciting segments of the boating market. Why? Because they are so versatile. From entry-level models perfect for the family or sunset cruise, to mixed-audience offerings that add fishing amenities, to craft that rival a performance or watersports boat (while simultaneously fitting in at the yacht club), there's literally something for everyone.

Video Content:

0:17 Bow Seating
0:57 Storage
1:08 Trash Container
1:20 Wakesport Storage Closet
1:47 Loungers

What did you think of the Suncatcher 322 SS? Comment on our blog and subscribe to our To view a range to view a full range of pontoon boats go to our Boats.com pontoon boats for sale page.

#pontoonboats #suncatcher