See more articles
Sunseeker 53: Brits Bring Back Sexy
The new 53 Manhattan from Sunseeker has looks to thrill.
The Sunseeker 53 Manhattan defies nationality. Case in point: if you were to ask the yacht police which country has sexy all sewed up, you wouldn't expect the answer to be England, would you? A long and respected seafaring tradition, absolutely. But come-hither good looks? Not so much.





There are anomalies, however, and Sunseeker is among them. Some luxury-hungry Americans with a wandering eye for exotic imports like the looks of the boats from this veteran builder, and those with a fetish for flybridge yachts have a new model to admire in the 53 Manhattan.

One of two new models in the Manhattan series, including the 73 Manhattan, the 53 replaces the Sunseeker 52. Like its predecessor, the new boat draws heavily on European design influences, looking every bit the languid Mediterranean cruiser—only this one is engineered to make light work of the heavy sea conditions in ports closer to its home. Think: 25 knots in the North Channel. The 53 is designed for sporty performance, too, and with a pair of 1,600-hp diesels it will top out at 32 knots and cruise at 23 knots. Range at cruising speed is about 250 nautical miles.

Features that differentiate the 53 from the 52 include larger windows for even more natural light inside and a bigger guest cabin with two individual berths set side by side, rather than as a bunk arrangement in a tighter floor plan. This cabin is one of three onboard. The VIP is forward and the master suite is amidships. There are accommodations for crew at the stern. This 53 also has a split-level salon with a C-shaped dinette to port, just opposite a very sporty helm station with two big and beautifully upholstered seats.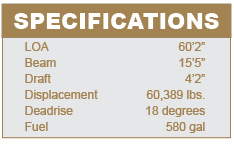 Thanks to a new hull with a broader beam that's carried lower to the waterline, there's more interior volume throughout the Manhattan 53, and that additional space makes for more comfortable cruising in general. Add to that a selection of high-end furnishings and finish options—hallmarks of the Sunseeker brand—and you have a fashionable flybridge yacht that looks as good as it feels to be aboard.

For more information, visit Sunseeker.

- Jeanne Craig