See more articles
Supersonic 31: High-Performance Boat Bargain
The Sonic 31-foot stern-drive doesn't just move well, it's priced to move.
If you are in the market for a new twin stern-drive engine high-performance boat with spacious cabin, I have good news for you. First, you can afford a new boat in this economy, and that means you likely have cash in hand. Financing a boat, much less a go-fast model that costs more than $100,000—and you won't find a new twin-engine model for less than that—remains an uphill battle.





Second, there is the 31-foot Supersonic from Sonic Powerboats.

With twin MerCruiser 377 Mag small-block engines, the boat lists for $169,877. Crank up the power to a pair of Mercury Racing 525 EFI engines and you're looking at a still-reasonable $210,708. Ramp it down to a single 377 small-block and the price is $132,196.

The Supersonic line is a series of V-bottom high-performance boats that range from 26 to 46 feet long. The 26- and 31-footers are positioned as "entry-level," whereas their 35-, 38-, 42- and 46-foot siblings are targeted at more experienced owners. As such, they're offered with more options and accordingly higher price tags.

"We've taken all the fat out of the pricing on all our boats," say John Cunningham, who co-owns Sonic's parent company, Frisini Motorsports, with Tony Frisina. The company also owns Spectre catamarans and the growing line of Frisini custom V-bottoms. "Sonic is our production-built line of performance boats, and we are very focused on pricing our boats aggressively. We want to present great value at affordable prices."





Mission accomplished, at least with the 31 Supersonic. The deck for the full-cabin model has undergone a redesign in response to the justifiable knock that the model looked dated. The long-awaited redesign cuts down the hull sides and locates the liner lower in the hull without compromising cabin headroom.

The upside of the Sonic line, even before Frisini acquired the company, was its reputation for good rough-water hulls with predictable handling, deep cockpits, and spacious cabins.

Having ridden in dozens of Sonics, including the 31-footer, I can personally vouch for the ride and handling. While I haven't ridden in a model with twin 377 small-blocks, the boat reportedly runs a respectable 60 mph with that power package.

The cabin of the Supersonic 31' comes standard with lounge seating and a V-berth, as well as a head-locker that includes a sink and a portable head. A 6-foot-tall adult can sit on the lounges and not scrape his head on the ceiling. The V-berth is long and wide enough to accommodate two adults.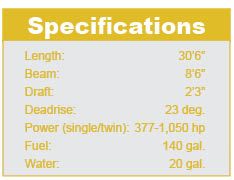 Standard fare in the galley includes a coldwater sink (hot water is an option), an ice chest, and cabinets. Adding a microwave is an option.

Why bother to focus on the cabin of a go-fast boat, which used to be an afterthought for most builders and buyers? Because with the economy down and fuel costs up, owners are doing less running and more hanging out in their boats either on the water with the engines shut down or tied up at the docks and spending a night or two onboard. That makes a viable cabin much more important.

Price a few twin-engine stern-drive sportboats and you'll find a lot more models north of $200,000 than south of it. At just less than $170,000 base, the 31 Supersonic is a whole of boat for the money—and worth a serious look.

For more information, visit Sonic Powerboats.

—Matt Trulio