See more articles
Supra 242 Launch: Going Big for a Smaller Tag
The Supra flagship runs with the top of the tow boat species, and at a very competitive price.
One thing that's almost sure to drive buyers crazy is a high-end tow boat that carries an attractive sticker price but doesn't have the features you need for the way you and your family plan to use it. A lack of substance at a price level that demands it is frustrating, and is often something that makes people look elsewhere.





For example, if it doesn't come with enough ballast capacity, wakeboarders will outgrow it. If it doesn't come with a tower, they won't even look at it. If it doesn't come with a trailer, all Dad will think about is how he's going to get it to the shop for service. It goes on.

A boat that offers the appropriate amount of features standard is one worth considering. Supra's all-new flagship, the 242 Launch has the goods, and it is competitively price among high-end tow boats.

Base MSRP is $74,900, which includes a tandem-axle trailer with disc brakes and a swing-away tongue. The trailer also is fitted with LED lighting, a great feature for a trailer that gets submerged each time you use it.



The standard engine is a 325-horsepower 5.7-liter Indmar V8, which is adequate for the 4,450-pound boat. Buyers who want more power can get 340-, 409-, and 450-horsepower engine packages. Expect prices to rise accordingly.

The 242 Launch also comes standard with the Gravity III ballast system, which can hold up to 1,700 pounds of water—the most of any Supra model—in its three bladder tanks beneath the sole. The Progressive tower, which was optional in prior years, is now standard, and it comes with swivel board racks. The forward tower bimini top should be standard, but it's a $695 option. Supra's multisport electric wake plate is standard, as is an AM/FM CD stereo with MP3 port, two remote controls, and a four-channel amplifier.

Supra's VISION dashboard is also included for the base price. VISION gives the driver digital control over features like the speed control system, ballast pumps, stereo, and even engine diagnostics.



"With 1,700 pounds of standard ballast, it's the boat of choice for Supra's team of pro riders," said Rick Tinker, president of Skier's Choice, the manufacturer of both Supra and Moomba tow boats. "Add to that tons of decked-out interior space, it makes the 242 the perfect place for a whole crew to spend the day on the water."

Built on a new, elongated running surface, the 242's main cockpit area has been lengthened by nearly two feet. The hull also was designed to be the deepest in its class, which adds a measure of comfort for those with small children.

Seating in the 242 is particularly attractive. For example, the playpen style bow area features wraparound padding and allows for two forward facing passengers to either side and, with its unique raised backrest at the front, one rear-facing passenger, too. Stowage compartments beneath the seat cushions are deep and carpeted.

There's a lot to talk about in the cockpit, particularly the three-place observer seat, which is made possible by the center walk-through cushion that flips up to create an additional backrest. There's also a flip-up backrest on the port side, which provides another seat to watch the action behind the boat, and there's yet another rear-facing seat to starboard, just behind the helm.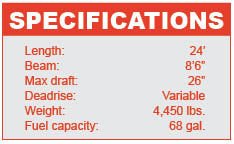 At the helm, the driver looks over a sculpted dash, with analog gauges to complement the VISION system. A good design call. The helm seat does everything you might need it to do. It swivels and is adjustable for height, and also comes with a flip-up thigh-bolster for additional visibility when docking or putting it on the trailer. The rest of the helm is straightforward stuff Supra has learned over the years, such as placing the armrest at the proper height and placing the throttle so it falls readily to hand.

From a value standpoint, the Supra 242 Launch stands on its own merits. What's more—though we usually refrain from commenting on aesthetics—the 242 Launch is a pretty boat. From its good looks and standard features to its competitive price, it should place high on a lot buyers' short lists.

For more information, visit Supra Boats.



Editor's Note:
Brett Becker
is a freelance writer based in Ventura, CA. He covers the marine, automotive and racing industries for various print and web titles.